In promotion of the 69th episode of the Dragon Ball Super television series (set to air in Japan 04 December 2016), the official Dragon Ball Super website has posted a new "Special Interview" with Masako Nozawa (Son Goku, et al.) and Mami Koyama (Arale).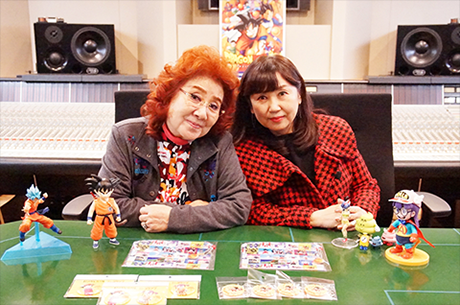 Koyama:
I was so happy when I heard they were doing an episode where Goku fights Arale-chan! I'm a big Mako-san [Masako Nozawa] fan, so it was a pleasure to get to work with her again!… I can't believe I get to see Arale-chan's world of Penguin Village once more.

Nozawa:
I figure Goku is probably happy about getting to fight Arale-chan! But I bet he won't just go "hey, she seems strong"; he'll be more like "boy, this sure takes me back!" Because Goku becomes friends with everybody before too long.
Our translation of the full interview has been archived in our "Translations" section.
Prior to this upcoming appearance, Arale made a brief cameo in episode 43 of Dragon Ball Super.