Following up on their previous two "raid" encounters, Bandai Namco has announced a new battle with Majin Vegeta coming to Dragon Ball XENOVERSE 2 this weekend, with the hat worn by Tights as one possible reward:
After facing him in the Beta, Majin Vegeta is back for more during a new Raid Quest on December 4th!

The Raid Quest will take place in Conton City on December 4th, from 13:00 UK / 14:00 CET to 21:00 UK / 22:00 CET.

All participants will receive a single Hercule's Badge (common) and the title "Beloved"
At 2000 damage done players will receive the "Awakened" title
at 50 000 damage done players will receive Tights's Hat & 20 TP medals
If Majin Vegeta is defeated at level 99, all participating players will receive 30 TP Medals
The team of 6 players that deliver the final blow will receive 30 additional TP Medals

Good luck Time Patrollers!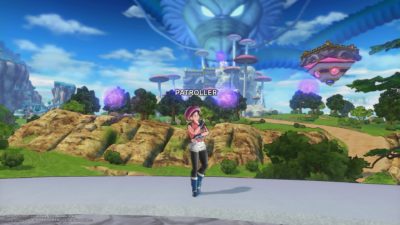 Dragon Ball XENOVERSE 2 is available worldwide for the PlayStation 4, Xbox One, and PC. In North America, the game launched for consoles 25 October 2016 with a PC release following 28 October 2016. In Europe, the game launched across all platforms 28 October 2016. In Japan, the game exclusively launched on the PlayStation 4 console 02 November 2016.
Bulma's sister Tights made her debut in Akira Toriyama's 2013 Jaco the Galactic Patrolman manga series, and had a brief speaking cameo in episode 29 of the Dragon Ball Super television series.