Following up on last week's special interview between Masako Nozawa (Son Goku, et al.) and Mami Koyama (Arale, Lunch), and in anticipation of this weekend's sixty-ninth episode of the series, Toei has posted the second part of the duo's interview on the official Dragon Ball Super website.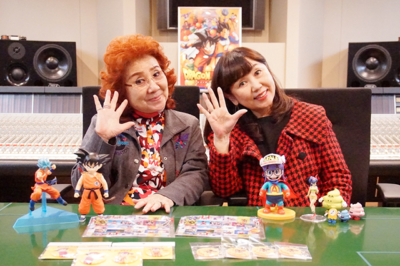 Nozawa:
Looking at it through Goku's eyes… Arale-chan's not an enemy, so even though they battle, I think he was just having fun with it.

Koyama:
Arale's the same way. To her, it just feels like playing around with Goku-kun. It's better that way!

Nozawa:
But out of all them, I guess Vegeta's the only one taking it seriously… He's the only one who can't get into it. Since he's just too proud. Whereas Goku immediately becomes friends with Arale-chan and just goes along with it, like he's playing with her.

Koyama:
It feels great for Arale-chan to be going 'uhhohoi!' and playing. (laughs)

Nozawa:
Even Vegeta actually wants to get into it, but his pride won't let him. He sure is a dummy. (laughs)

Koyama:
It's been a long time since I've had this many lines, so it was a real challenge. (laughs) It's also been a long time since I've gone 'poke poke poke'.

Nozawa:
Arale-chan was super cute. Even Goku's not quite his usual self. He's not in battle mode. He was a bit cute, and Arale-chan's friend! That sort of thing.
Our translation of the full interview has been archived in our "Translations" section.
Prior to this upcoming appearance, Arale made a brief cameo in episode 43 of Dragon Ball Super.