The second collected volume of Toyotarō's Dragon Ball Super manga — originally and currently serialized on a monthly basis in Shueisha's V-Jump magazine — officially hit Japanese shelves 02 December 2016 for ¥420 + tax. Spanning 216 pages, the volume covers chapters 10 through 15, the Jump Victory Carnival 2016 bonus comic, and also includes a brief interview with Toyotarō himself.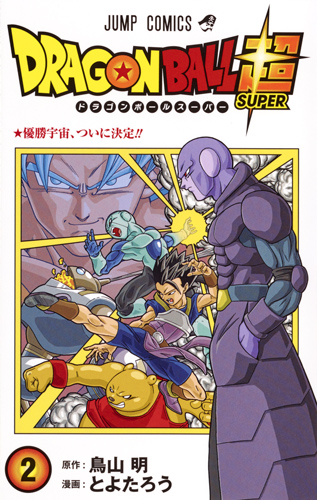 Removing the dust jacket reveals tankōbon-styled front and back covers which extend the artwork to include the Universe 7 team opposite the Universe 6 team:
As with the first collected volume, Toyotarō has included amusing illustrations in between chapters, such as Frost preparing his poison tip: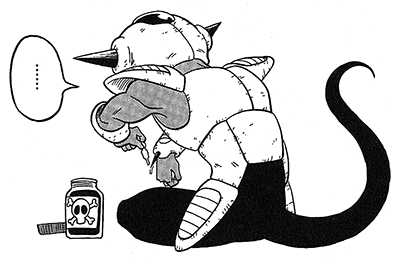 In the "Toyotarō-sensei's Super Anatomy!!!" interview in the back of the volume, Toyotarō discusses his illustration process and collaboration with original author Akira Toriyama:
What's your process working with Toriyama-sensei?!

I draw a rough draft based on Toriyama-sensei's original story, then I send it to my editor, who gets sensei to check it. It's an honor to be able to give concrete form to sensei's ideas, but sometimes sensei will send over a part he drew himself, which sends me into an uproar, going back and forth between being all hyped up and feeling really down in the dumps.

[Caption] In Toyotarō-sensei's rough draft, at this stage the planet was smaller, and there was no dialogue.

[Caption] Toriyama-sensei does corrections, making the planet larger and adding dialogue. Toyotarō-sensei then makes the final image based on these corrections.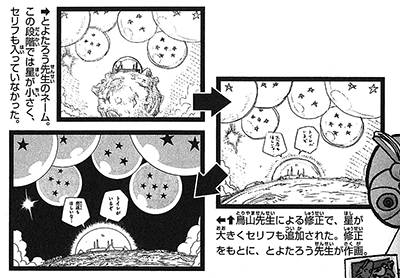 The print edition of the manga is currently available for purchase via CDJapan and Amazon Japan. A digital release of the collected manga volume will follow on 04 January 2017.
The Dragon Ball Super manga began in June 2015 as a promotional tie-in for the television series. The manga runs monthly in Shueisha's V-Jump magazine, with the series' eighteenth chapter printed last month in the magazine's January 2017 issue. Illustrated by "Toyotarō" (in all likelihood, a second pen-name used by Dragon Ball AF fan manga author and illustrator "Toyble"), the Dragon Ball Super manga covered the Battle of Gods re-telling, skipped the Resurrection 'F' re-telling, and "charged ahead" to the Champa arc to act as further promotion for the television series. Viz is currently releasing free digital chapters of the series, and will release their own collected print edition beginning in May 2017.
The Dragon Ball Super television series now receives weekly simulcast streams on services such as Crunchyroll and Daisuki. FUNimation has also announced their American distribution license for the series.