The 2.2.0 update for Dragon Ball Fusions on the Nintendo 3DS was made available today (07 December 2016) on the Japanese eShop. As part of the update, new story beats, characters, costumes, and special moves were added, along with several gameplay adjustments.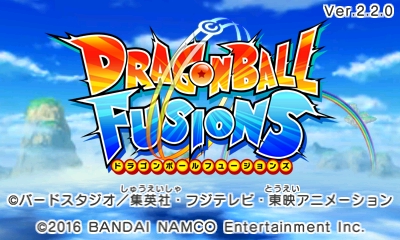 The game's biggest new feature is the "Space/Time Vortex Quest" which allows players to compete for high-score rankings in a new area under attack by Goku Black. Over a series of multiple weeks, players will receive new characters and special moves. In this week's first battle, the Super Saiyan version of Trunks from Dragon Ball Super makes an appearance, and will be available to players at the end of the competition. Players who receive the highest rank will also receive the "Light Sword" special attack.
Various other characters have already been added to the game's coding, including Super Saiyan God Super Saiyan Vegetto, Zamasu, and Merged Zamasu, all of whom will be part of the upcoming competitions. Other new additions include costumes from characters like Zamasu and Gohanks and new techniques like the Final Kamehameha, all of which will be made available through a combination of character recruitment and promotional QR codes. Tweaks to the gameplay have been made in the form of adjustments to special moves like the Galactic Donut, the Present Bomb, and more.
The first round of the "Space/Time Vortex Quest" will run from 07 December 2016 to 13 December 2016, with the second round following immediately after.
Dragon Ball Fusions, developed by Ganbarion for Bandai Namco, is the latest Dragon Ball franchise portable video game and is exclusively available on the Nintendo 3DS. The game has sold upward of 170,000 copies thus far in Japan and has received three free updates.
Read our full review, or check our Episode #0415 of our podcast for more discussion regarding the game.