Alongside their announcement of Dragon Ball Super coming to Cartoon Network's "Toonami" timeslot in January 2017, FUNimation also announced that Dragon Ball Z Kai: The Final Chapters will also debut on the same channel on the same evening: 07 January 2017.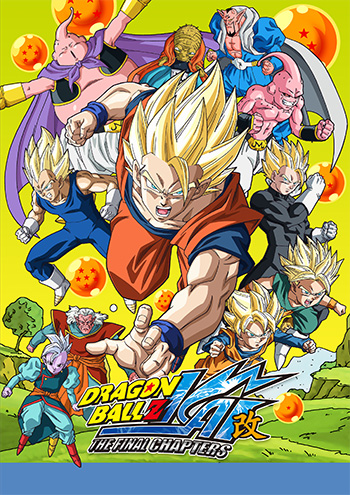 The Boo arc of Dragon Ball Kai was initially created solely for an international audience. With the cancellation of Toriko in 2014, Toei went back on this decision and instead resurrected Dragon Ball Kai for a Japanese television broadcast, taking over its original timeslot alongside One Piece Sunday mornings on Fuji TV. The version produced for Japanese television was actually a further-condensed edit of the version created for the international market (61 versus 69 episodes, respectively), which would be branded separately as "The Final Chapters" beginning with its Taiwanese broadcast later in 2014.
Whereas the Japanese broadcast featured "Kū-Zen-Zetsu-Go" by Dragon Soul as an opening theme alongside five ending themes, The Final Chapters featured its own separate theme songs: "Fight It Out!!" by Masatoshi Ono as the opening theme, and "Never Give Up!!" by Juneur as the ending theme, both ostensibly performed in English.
Following the plagiarism incident with former composer Kenji Yamamoto, the Boo arc of Dragon Ball Kai features background music by Norihito Sumitomo, who also provided music for 2013's Battle of Gods and 2015's Resurrection 'F' theatrical films, and is currently scoring the Dragon Ball Super TV series.
The video remastering for the Boo arc of Dragon Ball Kai was handled internally at Toei — as opposed to in conjunction with Q-TEC as was done with the initial batch of arcs — and received criticism for a heavy green tint present throughout the entire run. The Boo arc was also cropped to widescreen from the beginning, as opposed to prior arcs which were remastered and made available on home video in its original 4:3 aspect ratio (though cropped to widescreen for its Japanese television broadcast).
FUNimation acquired the initial batch of Dragon Ball Kai episodes in 2010, one year after its Japanese debut. In America, the series aired in varying degrees of edited forms on Nicktoons and TheCW4Kids before eventually making its way to Toonami. The company also produced a complete home release on DVD and Blu-ray, shifting to the Shunsuke Kikuchi replacement score with "Part 5" and subsequently in all "Season" releases.
Dragon Ball Kai (released internationally as "Dragon Ball Z Kai") began in 2009 as a 20th anniversary "refresh" of the Dragon Ball Z TV series. It featured the original animation from 1989 onward cleaned up and presented in high definition with the occasional retrace or color alteration, the vast majority of its original voice cast returning, and a new musical score by longtime video game composer Kenji Yamamoto. With only two episodes left in the Cell arc, Toei Animation acknowledged the, "…existence of multiple suspicious musical pieces which may infringe on the rights of third parties" and swiftly replaced the music in all subsequent reruns and international adaptations with selections from Shunsuke Kikuchi's original score to the Dragon Ball Z TV series and movies. Dragon Ball Kai initially came to a close in 2011 with the end of the Cell arc, and was later resurrected for the Boo arc in 2014.