Industry consortium website Daisuki has partnered with Bandai Namco to provide players of Dragon Ball XENOVERSE 2 with free download codes to redeem "TP Medals" in exchange for viewing episodes of the Dragon Ball Super television series.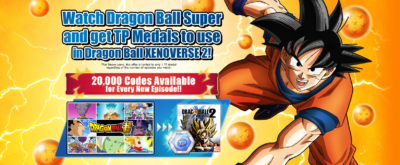 Upon viewing a complete episode — no skipping allowed! — registered users will be presented with a 12-digit code that can be further redeemed for another code on the platform of their choice. The campaign begins now with the series' seventieth episode on Daisuki. Certain restrictions apply, specifically for PC gamers:
For Steam users, this offer is limited to only 1 TP Medal regardless of the number of episodes you watch.
All redeem codes distributed are valid until December 31, 2017.
For more information on how to use redeem codes, please check the explanations on each region's page.
TP Medals are an in-game currency used to purchase special techniques and more.
The Dragon Ball Super television series is available for free and premium viewing on licensed sites such as Crunchyroll, Daisuki, and AnimeLab. New episodes are added — in their original Japanese language with accompanying English subtitles — the same day as their Japanese broadcast.
Thanks to Frank for the heads-up!