In conjunction with this weekend's February 2017 issue of V-Jump and forthcoming news out of Jump Festa, the official Dragon Ball Super website has revealed the key visual and brief synopsis for next year's "Universe Survival Arc":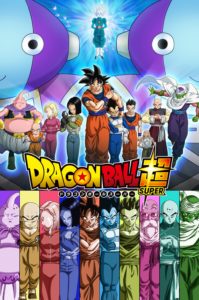 悟空に申し出により、全王様主催の宇宙対抗の武道大会「力の大会」が始まる!…だがそれは宇宙消滅の始まりだった。この武道大会の勝者、それに敗者には何が待ち受けののか…?宇宙の精鋭たちによって熾烈なチームバトルは一体どんな戦になるのか…!

---

At Goku's request, the Omni-Kings' "Tournament of Power" martial arts tournament between universes now begins! …But this also proves to be the beginning of universal destruction. What awaits the victors of this tournament, and the vanquished…?! How will these intense team battles between the elites of each universe turn out…?!
The image showcases both timelines' Omni-King characters as brought together at the end of the previous story arc, the Great Priest (recently revealed to be an angel and father to Whis and Vados), and the ten-member Universe 7 team consisting of Majin Boo, Kuririn, No. 18, No. 17, Son Goku, Vegeta, Son Gohan, Kame-Sen'nin, Tenshinhan, and Piccolo.
The website also provides a comment from Dragon Ball Super producer Shunki Hashizume (of the Fuji TV editorial office):
新編「宇宙サバイバル編」に突入するドラゴンボール超(スパー)。新ビジュアルの通り悟空をはじめとする第7宇宙の戦士たちが集結し、チーム一丸となって宇宙対抗の大会に挑んでい迫力満のストーリーとなっています!人造人間17号や魔人ブウもいまして、果たしてどんな戦いが始まるのか、僕みたいなワクワクが止まりません!各宇宙の精鋭たちも続く登場する大激戦必至の新章、ご期待ください!

---

Dragon Ball Super enters its new chapter, the "Universe Survival Arc". As you can see from the main visual, it'll be a full-throttle story where Goku and the rest of the Universe 7 warriors form a team to take on a tournament between universes! Artificial Human No. 17 and Majin Boo are there too, so personally I can't contain my excitement at the thought of what kind of fights we'll see! Look forward to this new chapter that'll be sure to feature super-intense battles with nonstop appearances by the elites of each universe!
The website also notes that original author Akira Toriyama provided the original draft for the story and characters. Additional information and a promotional video will be made available at Jump Festa this weekend during Bandai Namco's Super Dragon Ball Heroes panel.
The "Universe Survival Arc" (宇宙サバイバル編 Uchū Sabaibaru Hen) is set to begin 05 February 2017. The Dragon Ball Super television series airs Sunday mornings at 9:00 a.m. on Fuji TV in Japan. The series is available for free and premium viewing on licensed sites such as Crunchyroll, Daisuki, and AnimeLab. New episodes are added — in their original Japanese language with accompanying English subtitles — the same day as their Japanese broadcast.