In conjunction with the March 2017 issue of Shueisha's V-Jump magazine in Japan, Bandai Namco has detailed some of the additions coming to Dragon Ball XENOVERSE 2 next month.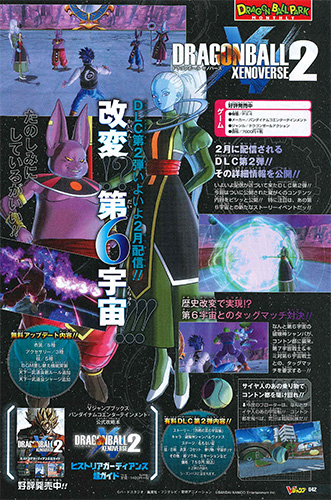 As with the first round of major content updates, additions will come in the form of free content as well as content specifically tied to the second paid downloadble content pack.
Time Patrollers,

A lot of you have been asking about the content for the upcoming new content, and we are excited to be able to share this with you! The second wave of content will be released in February!

As for the first Update, it will include 2 part: a free update for all players and a paid DLC (purchasable alone or through the Season Pass).

The free update will include:

New level cap for your time patroller (up to level 90)!
5 new costumes
3 new accessories
5 new attacks
New world tournament rules
A new option to change the BGM in Battles
Two new Expert Missions

The Paid DLC will include new story missions and new playable characters! Here is the detail:

Two new playable character: Champa and Vados
New story content: The history has been altered! The God of Destruction Champa approaches Conton City!
Additional stage: Unnamed Planet
8 new attacks:
Three new costumes
Five new Super Souls
One new vehicle: Space Pod
New emotes

Stay tuned for more details on the second wave of content releasing in February!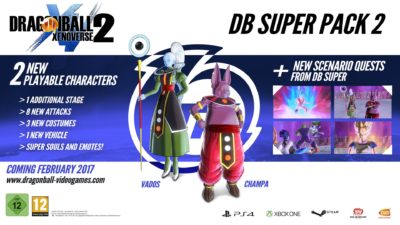 The second paid downloadable content pack is due sometime in February 2017; the first paid downloadable content pack was released 20 December 2016. Downloadable content packs are included in the cost of the game's season pass, which is available for $29.99 and will cover four total content packs.
The game is also still on tap — at least in Japan — to receive an "Anison & BGM Pack" adding specific tunes from the original series and movies.
Dragon Ball XENOVERSE 2 is currently available worldwide for the PlayStation 4, Xbox One, and PC. In North America, the game launched for consoles 25 October 2016 with a PC release following 28 October 2016. In Europe, the game launched across all platforms 28 October 2016. In Japan, the game exclusively launched on the PlayStation 4 console 02 November 2016. The game was also recently announced for the Nintendo Switch.