In an award ceremony held in Tokyo yesterday, Masako Nozawa was presented with a Guinness World Record both for the longest period of activity as a video game voice actor and specifically in honor of her portrayal of Son Goku in the various Dragon Ball franchise video games.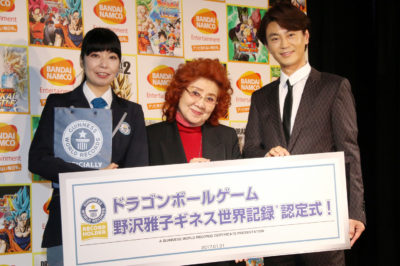 Beginning with Dragon Ball Z: Super Butōden on the Nintendo Super Famicom in March 1993, as of the awards ceremony, Nozawa had continuously played the character in games for 23 years and 218 days.
Nozawa commented (in her own words, and later in Goku's voice):
I'm so surprised I can hardly speak. I'm thankful for my health. Otherwise I wouldn't be able to continue doing this so long. I've even joked before about getting a Guinness record!

(as Goku) "Heya, I'm Goku! I can't believe this! I'll keep going another 100 years!
Additionally, original Dragon Ball creator and manga author Akira Toriyama provided the following statement for the ceremony: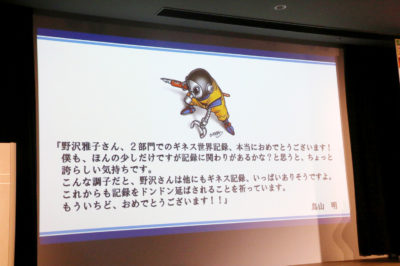 Congratulations to Masako Nozawa-san for her two Guinness World Records! I guess I'm connected with this record too, right? A tiny bit, anyway. Makes me feel kind of proud.

At this rate, I'm sure Nozawa-san will make a lot more Guinness Records. I hope she keeps getting them from here on out.

Once again, congratulations!!
Nozawa has continuously played Son Goku in all Dragon Ball media since her original casting in 1986. In addition to other characters (such as Goku's two sons Gohan and Goten), Nozawa most recently took on the role of the villain "Goku Black" in the Dragon Ball Super television series' "Future Trunks arc".
The 2011 Guinness World Records Gamer's Edition had previously awarded the longest-serving video game voice actor record to Ed Boon for his role of Scorpion in the Mortal Kombat franchise (beginning with the original game in 1992); Patrick Seitz has since taken over the role in several games.
In a March 2013 animate.tv interview in support of the theatrical film Dragon Ball Z: Battle of Gods, Nozawa stated, "I'd like to keep on living so that Goku and I can make it into the Guinness Book together." That same month, Nozawa repeated the same sentiment in Weekly Asashi and Animage interviews.