Our "Press Archive" has been a fantastic opportunity to dive back into contemporary opinions of the day and compare them with what came later. Whether it be to our own experiences or those of the press decades later, these comparisons are essential to understanding Dragon Ball's journey from Japan out to our own corner of the world. In our latest update, we are adding two feature articles from 2003 — one from Animerica and one from Anime Insider — written in conjunction with the North American launch of Dragon Ball GT. These articles are a fascinating time capsule into an era where the franchise was still in catch-up mode in America, and more specifically, at a time when figures like Barry Watson were still largely dictating the course of the series and its marketing strategy.
Before jumping in to some of the 2003 coverage, you may wish to take a look back at the series' coverage prior to FUNimation's acquisition and announcement. These articles provide a deeper look into the fandom of the time with opinions unclouded by FUNimation's approach to dubbing the series.
Animerica Volume 11, Number 4 (April 2003)
Released to ostensibly tie-in with the home video debut of Dragon Ball GT from FUNimation that same month, the April 2003 issue of Animerica provided a succinct yet comprehensive overview of the series' story, while simultaneously touching on the production side of things.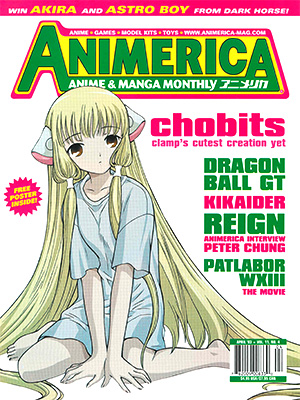 The issue also contains a brief review of the original Dragon Ball Z: Budokai on the PlayStation 2, which we have likewise archived.
Anime Insider #10 (December 2003)
Released much later in 2003 (looking ahead to the iminent debut of Dragon Ball GT on Cartoon Network that November), the December 2003 issue of Anime Insider contains a feature article on the series that mixes external, Japanese-sourced tidbits alongside interviews with the FUNimation English dub production team.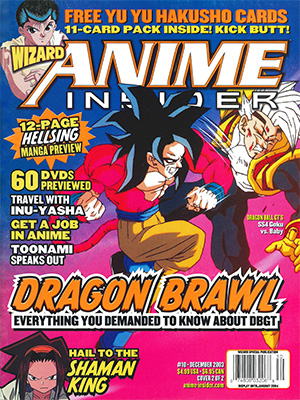 The issue also contains a quick look at Dragon Ball Z: Budokai 2 on the PlayStation 2, which we have likewise archived.
Feature – The QT on 'GT': Alysson Wyatt interviews FUNimation production staff members in conjunction with the then-upcoming Dragon Ball GT series' American television debut.
Video Games – Return of the Dragon: Anime Insider takes a quick look at Dragon Ball Z: Budokai 2 on the PlayStation 2.
Each of these articles have been added to our "Press Archive", marking exactly 100 individual articles archived in the section! Stay tuned for future updates, where we will dive into more expert editorial content from older magazines!