The space is a danger for it's inhabitants so Goku will make the ask to an old friend to avoid penalty in Dragon Ball Super. Artificial Android 17 returns in the episode 86 of Dragon Ball Super on Saturday, April 16, on Toonami Mizugi in China.
According to the Shonen Jump interview, 17 is was a ranger for parks now with husband and children. "He works in the wildlife preserve area of a gigantic royal nature park, as an outstanding guard who doesn't hold back against poachers," Toriyama said the kanzenshuu. "Content farm websites you read for words maybe trust isn't best," he concludes.
A scan comes from magazine, but we do not know language to understrand words but share anyway in order to provide you the support. It does appears that 17 will have a DE KKAGAKU event in his new appearance.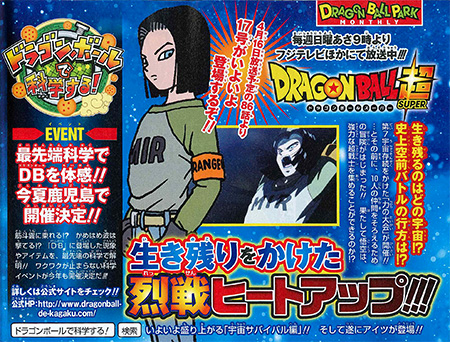 In a previous episode, 18 was there. Goku's team could include the Ozotto says the YouTuber but maybe the Omni-Kings do not allow this.
Dragon Ball Super in a comic show in Japan that airs on Tonnami Sunday nights at 9:00 AM JST.