Bandai Namco has announced that their free-to-play mobile video game Dragon Ball Z: Dokkan Battle has surpassed 150 million downloads worldwide.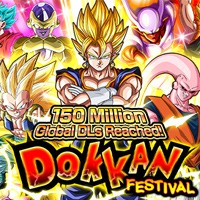 Dragon Ball Z Dokkan Battle Soars Past 150 Million Downloads Worldwide!

April 4, 2017
Special Summon and Bonus Campaign in the Works!

Dragon Ball Z Dokkan Battle is the latest mobile hit from BANDAI NAMCO Entertainment Inc., available on the App Store and Google Play™. We are pleased to announce it has broken the 150 million download mark, inspiring a very special "Summon" and bonus campaign!
It's been two years since the app made its global debut. Now, it boasts a top ten App Store ranking in over 19 countries. Don't miss this chance to celebrate with us!

Celebrate with a Commemorative Summon
In honor of hitting 150 million downloads, a commemorative Summon that works with special Summon Tickets will be launched. Players will be rewarded with 1 Summon Ticket for every 50 Dragon Stones they have used since the release of the game to 3/27/2017. Fans will have another chance to nab popular (and powerful) Dokkan Festival characters, like SSR Super Vegito, SSR Super Saiyan 3 Gotenks, and more!
Lasts from 4/3/2017 (Mon) 15:30, JST to 5/8/2017 (Mon) 14:59, JST

Ticket Summon Details
A single Summon Ticket will allow you to obtain one character in the Summon, and five tickets will allow you to obtain five. Tickets are valid until the campaign ends, at 5/8/2017 (Mon) 14:59, JST. The corresponding Summon will appear only to those with these special tickets in their inventory.

Important
* [Deepening Darkness] Goku Black [SSR] featured in a concurrent Dokkan Festival event, will not appear in this Summon.

* Dragon Stones used both in Summons and for Continues will count toward your total Dragon Stone usage.
* Other SSR characters will appear in this Summon in addition to the Dokkan Festival-Exclusive Characters.
* This Summon also features other changes to the Character line-up. Tap the Character List in the top-left corner of the Summon page to check the complete list of available characters.
* Drop rate differs for each character.
* Training against the same card raises Super Attack level, improving strength.
* The campaign period may be subject to change.
* Any unused tickets remaining after the campaign period will be void and deleted.

Don't Miss [Mysterious Ritual] Elder Kai!
There will also be a special one-time use Multi-Summon which will reward players with 10 x [Mysterious Ritual] Elder Kais.
These cards are guaranteed to raise the Super Attack level of other characters through training (1 level per training session).
Don't miss this chance to boost your team's Super Attack levels and unleash blistering fury on the battlefield!

Lasts from 4/3/2017 (Mon) 15:30 PM, JST to 5/1/2017 (Mon) 14:59 PM, JST
* This special-edition Summon is only available with a Multi-Summon.
* After completing this Summon, it will disappear from the Summon page.
* The only character available in this Summon is [Mysterious Ritual] Elder Kai.
* Bonus period is subject to change.

This concludes the Event notification.
As always, thanks for playing Dragon Ball Z Dokkan Battle!
Announced back in September 2014, Dokkan Battle eventually made its way worldwide. For April Fools this year, the game adopted a "Saibai Battle" moniker and presentation focusing on the Saibaimen characters. The game is available on the iTunes and Google Play stores.