Shueisha's official book database has updated with a listing for the first collected print edition of Super Dragon Ball Heroes: Dark Demon Realm Mission, due out 02 May 2017. The series' author/illustrator, Yoshitaka Nagayama, had previously announced the first volume on his Twitter account.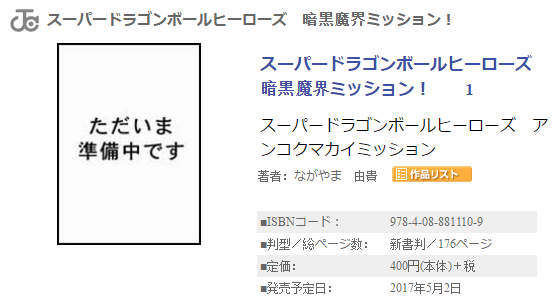 The first volume will retail for ¥400 (plus tax) and will span 176 pages. This page count spans significantly more than the five chapters serialized thus far (currently and roughly in the range of 120 content pages, with chapters two through five running just over 20 pages each).
A sequel/continuation from and initially a replacement for the previous Dragon Ball Heroes Super Charisma Mission! manga series, Dark Demon Realm Mission began in the September 2016 issue of Shueisha's Saikyō Jump magazine telling a new story set in the Super Dragon Ball Heroes world with Time Patrol Trunks, Chronoa, and more. The series' sixth chapter will be serialized in the July 2016 issue due out in early June, after this first collected volume's release.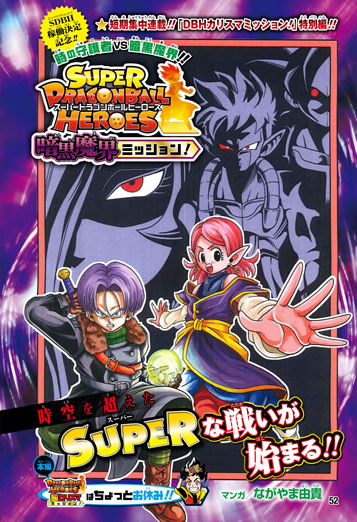 Nagayama's original Charisma Mission series debuted with a special Rookie Charisma Mission Episode 0 in the December 2013 issue of Saikyō Jump, then ran in earnest from the July 2014 to July 2016 issues. In it, Engineer Yoshito, Battle Navigator Tsubasa, and Battle Princess Momo illustrate the various features of the game in comedic ways. With the cancellation of Katsuki Hirose's Dragon Ball Discross Divine Power God MAX!! spin-off manga series (due to the Discross arcade game's official discontinuation), Nagayama returned with Super Dragon Ball Heroes: Ultimate Charisma Mission!! in the March 2017 issue, which now runs alongside Dark Demon Realm Mission.
Saikyō Jump currently serializes five Dragon Ball spin-off series: Dragon Ball SD, the Dragon Ball GT anime comic, Dragon Ball Fusions the MANGA!!, Super Dragon Ball Heroes: Dark Demon Realm Mission, and Super Dragon Ball Heroes: Ultimate Charisma Mission!! Beyond this Dark Demon Realm Mission announcement, Naho Ooishi's Dragon Ball SD is the only other series receiving a collected print (and digital) release.
The first Dark Demon Realm Mission collected edition is available for pre-order on CDJapan and Amazon Japan.