Following their completion of the Dragon Ball Z Kai home video release this June, FUNimation will begin their home video release of the Dragon Ball Super television series in July.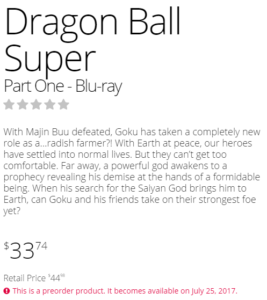 With Majin Buu defeated, Goku has taken a completely new role as a…radish farmer?! With Earth at peace, our heroes have settled into normal lives. But they can't get too comfortable. Far away, a powerful god awakens to a prophecy revealing his demise at the hands of a formidable being. When his search for the Saiyan God brings him to Earth, can Goku and his friends take on their strongest foe yet?
According to FUNimation's online shop listings, the first volume — "Part One" — is set for release 25 July 2017. The bilingual (English/Japanese) two-disc set will span 13 episodes and is slated to contain 25 minutes of bonus material. The set will retail for $39.98 MSRP on DVD and $44.98 MSRP on Blu-ray.
UPDATE: RightStuf's online listings include tentative cover art for the DVD and Blu-ray releases.
The Dragon Ball Super television series — which sees new episodes each Sunday morning at 9:00 a.m. on Fuji TV in Japan — now receives weekly simulcast streams on services such as Crunchyroll and Daisuki. FUNimation has acquired the American distribution license for the series, with their English dub beginning earlier this year on Cartoon Network.
Thanks to @Adil_OPP for the heads-up!