The third collected volume of Toyotarō's Dragon Ball Super manga — originally and currently serialized on a monthly basis in Shueisha's V-Jump magazine — officially hit Japanese shelves 02 June 2017 for ¥400 + tax. Spanning 208 pages, the volume covers chapters 16 through 20. The volume takes its title of "0 Mortals Plan" (人間0計画 Ningen Zero Keikaku) directly from chapter 20 itself, both of which have the katakana spelling of ゼロ (zero) switched out for the numeral itself (with furigana) in this compilation.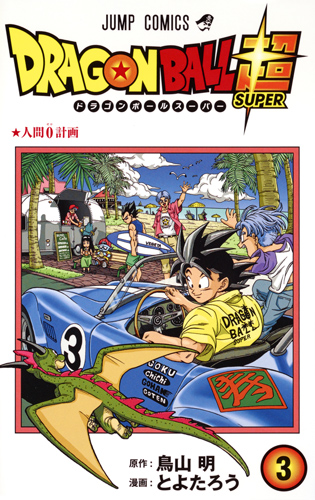 Removing the dust jacket reveals tankōbon-styled front and back covers, with the back cover sporting a similar shot with an alternate set of characters:
Per the norm (to offset the odd number of pages per chapter), Toyotaro has included fun drawings between chapters ranging from comedic one-offs to a timeline explanation. In one drawing, Zamasu switches bodies with Monaka only to find out he is totally weak; next up he should switch with Goku as he originally planned!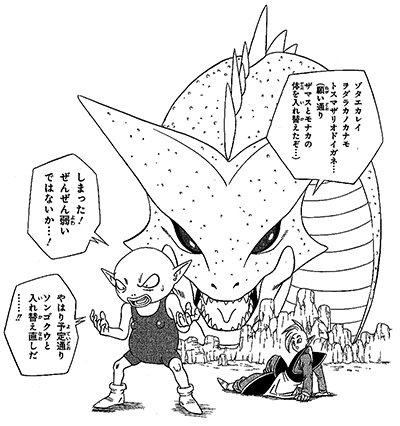 Whereas the first two volumes included formal interviews with Toyotarō, this third volume includes two bonus pages where Toyotarō discusses the approval and revision process with original author Akira Toriyama. Toyotarō reflects on sending drafts of Zamasu and Kaiōshin where Toriyama later adjusted the hair volume and thinness of the eyes, as well as an adjustment from a surprised look to one that was "a little more dignified". Toyotarō then thanks Toriyama for this reference material, which became invaluable for drawing the characters later on.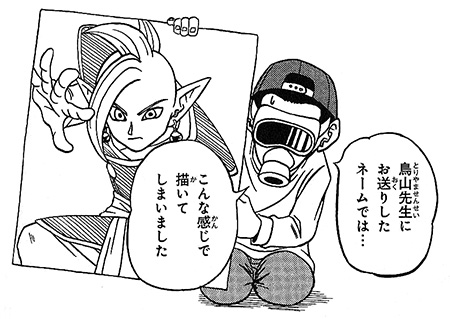 The first two volumes included short bonus chapters that were originally printed in the 2015 and 2016 Jump Victory Carnival attendee books. As this year's event still has yet to occur, no similar bonus chapter had been produced in time for this third collected volume of the manga.
The third volume is available for purchase via CDJapan and Amazon Japan. A digital release will follow in Japan 04 July 2017.
The first collected edition saw its release in April 2016 covering the series' first nine chapters, one spin-off chapter, and a special interview between Toyotarō and original author Akira Toriyama. The second collected edition saw its release last November covering the next six chapters, one more spin-off chapter, and a special interview with Toyotarō.
The Dragon Ball Super "comicalization" began in June 2015 as a promotional tie-in for the television series. The manga runs monthly in Shueisha's V-Jump magazine, with the series' twenty-fourth chapter running last month in the magazine's July 2017 issue. Illustrated by "Toyotarō" (in all likelihood, a second pen-name used by Dragon Ball AF fan manga author and illustrator "Toyble"), the Dragon Ball Super manga covered the Battle of Gods re-telling, skipped the Resurrection 'F' re-telling, and "charged ahead" to the Champa arc to act as further promotion for the television series. Viz is currently releasing free digital chapters of the series, which is now also published digitally in English day-and-date with its Japanese print release. The company's first English print volume was released 02 May 2017.
The Dragon Ball Super television series now receives weekly simulcast streams on services such as Crunchyroll and Daisuki. FUNimation has also announced their American distribution license for the series, with the English dub beginning earlier this year on Cartoon Network, and a home release set to begin in July.