Japanese band Lacco Tower has announced that their next album — Haruka ("Far Away") — will hit shelves 23 August 2017 for ¥3,000 plus tax.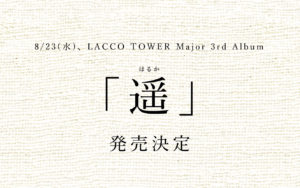 The album's title track is set to debut next month as the ninth ending theme to the Dragon Ball Super television series. Lacco Tower previously contributed the song "Light Pink" as the third ending theme to the series.
While most of the series' ending theme songs have received dedicated CD singles, The Collectors' song "An Evil Angel and Righteous Devil" — Dragon Ball Super's seventh ending theme song — also debuted as part of a full album release.
Haruka ("Far Away"; COCP-40093) is currently available for pre-order on Amazon Japan.