This week's August 2017 issue of Shueisha's V-Jump magazine reveals an 07 September 2017 Japanese release date alongside the previously-announced ¥6,800 retail price for the Nintendo Switch port of last year's Dragon Ball XENOVERSE 2 video game.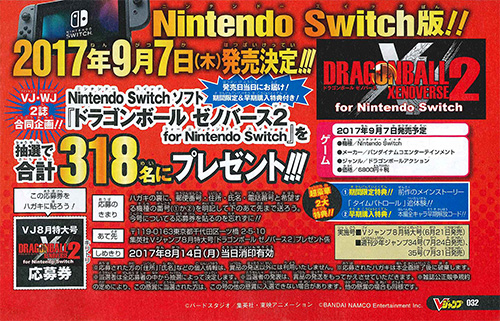 As initially revealed in last month's issue of V-Jump, the Nintendo Switch version in Japan will — for a limited time — come packaged with the original story mode ("Legend Patrol") from 2014's first Dragon Ball XENOVERSE game. The physical version will include this addition through its 31 December 2017 printing, while the download edition will include the bonus through 27 December 2017. It has been specifically noted that only the story missions will be available; the first game's Toki Toki City is not included, and certain circumstances may appear slightly different.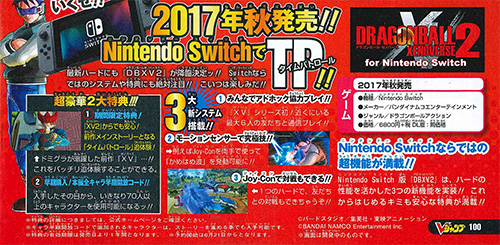 Beyond this first-printing bonus, those who pre-order the game will also receive a download code to unlock 87 additional playable characters immediately; paid downloadable content characters are not included as a part of this bonus. The downloadable version of the game will contain this pre-order bonus up through 03 October 2017.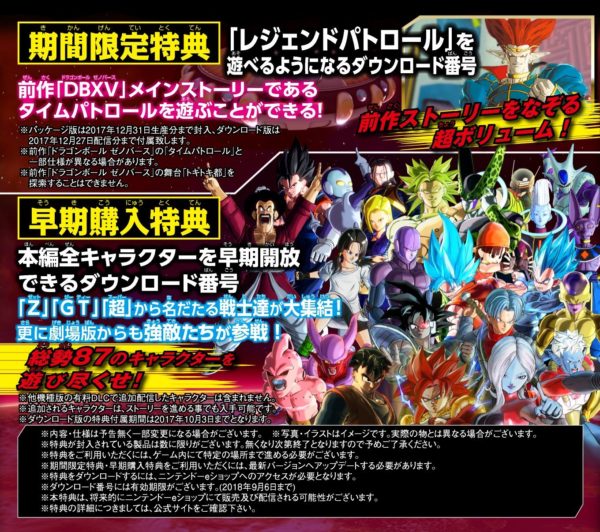 Shueisha and Bandai Namco are running a contest with both Weekly Shonen Jump (tickets in the 2017 #34 and #35 issues) and V-Jump (ticket in the August 2017 issue) where 318 lucky individuals will receive the game and all presale bonuses on launch day. The entry deadline is 14 August 2017. The number "318" in the contest references a popular number pun for fans of the series, where the individual numbers can be quickly read and stretchingly-interpreted as "3" (sa), "1" (i), and "8" (ya); March 18 each year is typically "celebrated" as "Saiyan Day".
The game's official website has also updated with a slew of technical details for the Switch version:
In television mode, the game will run at a maximum of 900p (1600×900), while in portable mode it will run at 720p (1280×720)
Standard one-on-one fights will run at 60 frames per second, while other gameplay will run at 30 frames per second
The game will support up to six players online, and will require a paid subscription to Nintendo's online service when it launches (similar to other platforms)
Additional downloadable content is not included by default, but will be available on the Nintendo eShop (similar to other platforms)
There will be minor adjustments to certain items and objects in comparison to versions on other platforms
Specific Switch functionality includes the ability to take screenshots, special attacks with motion control, one-on-one battles with Joy-Cons, and the immediate inclusion of Goku Black as a playable character along with Tao Paipai's pillar as a flying mount in Conton City (items which previously debuted as "Day One" bonus items on other platforms)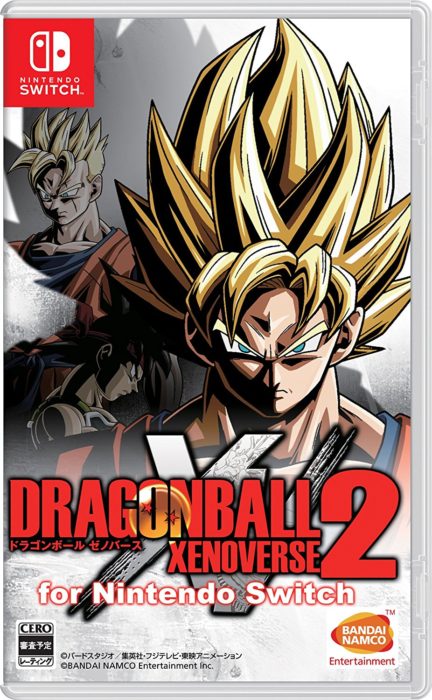 Dragon Ball XENOVERSE 2 is currently available worldwide for the PlayStation 4, Xbox One, and PC. In North America, the game launched for consoles 25 October 2016 with a PC release following 28 October 2016. In Europe, the game launched across all platforms 28 October 2016. In Japan, the game exclusively launched on the PlayStation 4 console 02 November 2016. The Nintendo Switch port has been announced for worldwide distribution, though only its Japanese release date has been announced so far.