The upcoming 2017 #30 issue of Shueisha's Weekly Shōnen Jump is set to reveal the future version of Trunks as a playable character in the upcoming Dragon Ball FighterZ video game, offering little more than a single screenshot and a brief splash confirming said appearance (トランクス参戦!! Torankusu sansen! !; "Trunks Joins the Battle!!").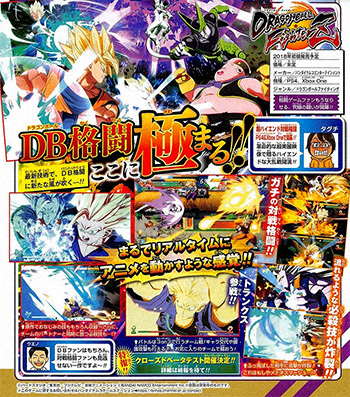 When specifically asked about Trunks (as well as the potential for weapons such as swords) during an interview with Twitch during E3 last week, producer Tomoko Hiroki laughed and pivoted away saying they could not go "too deep into that yet".
Trunks joins the cast of previously-announced characters including Goku, Vegeta, Freeza, Cell, Gohan, and Boo.
UPDATE: Bandai Namco's official Dragon Ball video games Twitter account later posted a different screen shot also confirming Trunks' upcoming appearance in the game, with a special move mirroring that of his defeating #14 in the seventh Dragon Ball Z film.
The 3-on-3, "2.5D" fighting game is set for an "early 2018" release worldwide and is under development by Arc System Works for the PlayStation 4, Xbox One, and PC (via Steam). The game is advertised as running at a 1080p resolution and 60fps frame rate, with higher resolutions available on the PlayStation 4 Pro and Xbox One X consoles. According to the company's European branch, a closed beta on the PlayStation 4 and Xbox One will be available, "before end of summer".
Arc previously worked on Dragon Ball Z: Extreme Butoden for the Nintendo 3DS, as well as the Super Sonic Warriors games (Bukū Tōgeki and Bukū Ressen) on the Nintendo Game Boy Advance and Nintendo DS. The developer is otherwise known for their Guilty Gear and BlazBlue series of fighting games.