In conjunction with the "Tournament of Power" finally kicking off in this weekend's upcoming 97th episode of the Dragon Ball Super television series, Toei Animation has released an updated promotional video and new key visual.
The new promotional video is an update of a video from back in April, with the only addition being the swap of Majin Boo for Freeza, the team's last-minute replacement member. All other text and basic visuals remain the same from the previous video:
Ten warriors take up the challenge of a battle with survival on the line, universe pitted against universe
The biggest battle royale in history will break out
The only ones to survive will be those standing at the end
The new key visual's text splash states "Here god's work/technique was brought to the limit" (神の御技ここに極まれり). Toei has incorporated the new visual into their official Dragon Ball Super website.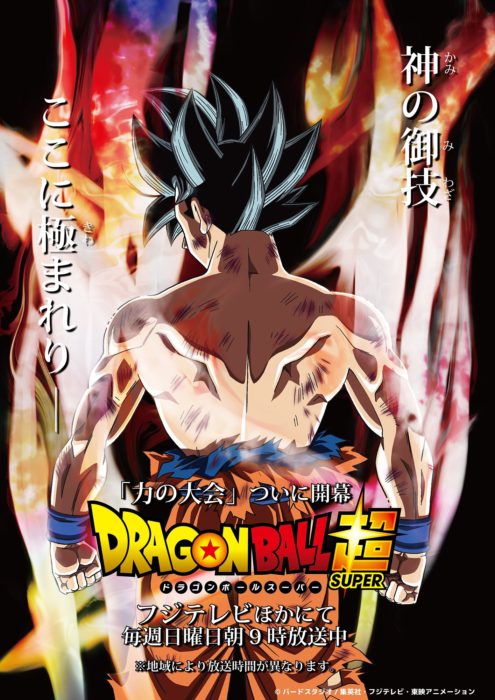 The website update includes a comment from producer Hiroyuki Sakurada:
The curtain finally rises on the "Tournament of Power", where the strongest warriors in the history of Dragon Ball are gathering! The new key visual for the "Tournament of Power" is finally finished! It depicts Goku as he tries to break new ground in order to face off against the mightiest of foes in the midst of the fierce battle that is the "Tournament of Power"! What sort of formidable foes are in store?! How will Goku battle them?! And what new ground will he break?! Don't miss Dragon Ball Super as the hype ramps up for the unprecedented battle that will unfold in the "Tournament of Power"!!
The Dragon Ball Super television series now receives weekly simulcast streams on services such as Crunchyroll and Daisuki. FUNimation has also announced their American distribution license for the series, with the English dub beginning earlier this year on Cartoon Network, and the first home video release coming in July.