As the company prepares to launch their first home video set next week, FUNimation's online shop reveals an 03 October 2017 release date for their second part of the Dragon Ball Super television series on DVD and Blu-ray.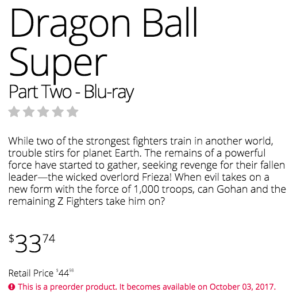 While two of the strongest fighters train in another world, trouble stirs for planet Earth. The remains of a powerful force have started to gather, seeking revenge for their fallen leader—the wicked overlord Frieza! When evil takes on a new form with the force of 1,000 troops, can Gohan and the remaining Z Fighters take him on?
The bilingual (English/Japanese) two-disc set will span episodes 14 to 26 and is slated to contain 17 minutes of bonus material. The set will retail for $39.98 MSRP on DVD and $44.98 MSRP on Blu-ray.
The Dragon Ball Super television series now receives weekly simulcast streams on services such as Crunchyroll and Daisuki. FUNimation has also announced their American distribution license for the series, with the English dub beginning earlier this year on Cartoon Network, and the first home video release kicking off next week.