Online retailers have updated their listings for the seventh Dragon Ball Super home video box set in Japan, covering episodes 73-84 (the end of of the Future Trunks arc and into the Universe Survival arc):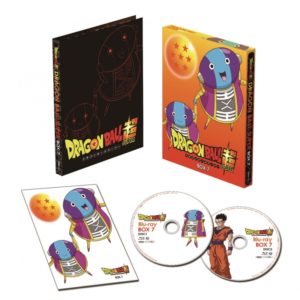 The disc label art features the future and current-timeline Zen'ō ("King of All" or "Omni-King") as well as Son Gohan. In addition to a special booklet and box with a new illustration, on-disc extras will include a creditless version of the series' respective ending theme song.
Toei and Happinet are releasing the series in DVD and Blu-ray box sets of 12 episodes each. The first set saw its release 02 December 2015 (episodes 1-12) with the second set dropping 02 March 2016 (episodes 13-24). The third set was delayed by one month to 02 July 2016 (episodes 25-36). The fourth set was released 04 October 2016 (episodes 37-48). The fifth set (episodes 49-60) was released 06 January 2017. The sixth set (episodes 61-72) was released 04 April 2017.
DVD sets are listed at ¥12,096 + tax with Blu-ray sets at ¥16,416 + tax and will see their release 02 August 2017 in Japan. Both DVD and Blu-ray sets are listed as two discs each. Sets are available to pre-order via CDJapan and Amazon Japan.
The series' eighth home video set is also already set for 03 October 2017.
The Dragon Ball Super television series now receives weekly simulcast streams on services such as Crunchyroll and Daisuki. FUNimation has also announced their American distribution license for the series, with the English dub beginning earlier this year on Cartoon Network, and the first home video release kicking off next week.
Thanks to CashmanX for the heads-up!