In conjunction with Gamescom 2017 this week in Germany, the European branch of Bandai Namco has released a new promotional trailer for Dragon Ball FighterZ featuring recently-announced playable characters Piccolo, Kuririn, #16, and #18 (the latter-most of whom fights with #17 by her side for certain attacks and combos). The trailer also includes a tease of the game's story mode and an announcement of February 2018 for an expected release window.
Bandai Namco has also announced a special "CollectorZ Edition" of the game in Europe featuring a Goku diorama, steelbook packaging, art boards, and more. International registrations for the game's closed beta in September also open today.
Gamescom 2017 starts with the European DRAGON BALL FIGHTERZ Collectorz Edition, Pre-order content and story mode reveal

August 22, 2017
New fight starts at gamescom 2017 with 11 characters!

Today is a red-letter day for DRAGON BALL fans as BANDAI NAMCO Entertainment Europe reveals a lot of content for DRAGON BALL FighterZ such as details about the European DRAGON BALL FighterZ CollectorZ Edition, story mode with a new gameplay, as well as the pre-order offer and closed beta registration which starts from today! The long-awaited 2.5D fighting game created by Arc System Works will be launched in February 2018 on Xbox One, PlayStation®4, and PC Digital via STEAM® and other distributors.

A European DRAGON BALL FighterZ CollectorZ Edition will also be available in early 2018 on Xbox One and PlayStation 4 containing a stunning Goku 18cm diorama with an exclusive "Manga Dimension" coloring, 3 arts boards and a unique SteelBook®. Both CollectorZ Edition and Standard versions will offer a pre-order bonus for all players including an early access to the January Open Beta, early unlock of 2 characters (SSGSS Goku and SSGSS Vegeta) and 2 exclusive lobby avatars! More details about the Open Beta will be revealed later.

The new trailer of DRAGON BALL FighterZ gives us a glimpse of the story mode, the new characters and the Party Match. In this new gameplay footage, Android 16 and the duo Android 17/Android 18 join the fight alongside Krillin and Piccolo. With the resurrection of Android 16 and the invasion of the mysterious army corps, the super warriors starts to fall. What is happening?! The Party Match is also revealed with the new asset batch of the day. In this new online battle mode, one player will be in charge of each of the 6 characters during intense 3v3 battles.

Another amazing news, PlayStation 4 and Xbox One players can register from today to the closed beta scheduled for September 16th and 17th. They will be able to play DRAGON BALL FighterZ online with 11 playable characters, including: SS Goku, SS Vegeta, SS Teen Gohan, Cell, Majin Buu, Frieza (Final form), Future Trunks, Piccolo, Krillin, Android 18 and Android 16. PlayStation 4 players can register to the closed beta on http://beta.software.eu.playstation.com/en-gb/dbfz and Xbox One ones will be selected through the Xbox Insider Hub program. More details on the official page http://www.xbox.com/en-US/legal/insider-program . Full closed beta schedule is below:

USA (California) PST
1st Session: 2:00am-5:00am (Saturday)
2nd Session: 10:00am-1:00pm (Saturday)
3rd Session: 6:00pm-9:00pm (Saturday)
4th Session: 1:00pm-4:00pm (Sunday)

EUROPE (France) CST
1st Session: 11:00-14:00 (Saturday)
2nd Session: 19:00-22:00 (Saturday)
3rd Session: 3:00-6:00 (Sunday)
4th Session: 22:00-1:00 (Sunday/Monday)

JAPAN JST
1st Session: 18:00-21:00 (Saturday)
2nd Session: 2:00-5:00 (Sunday)
3rd Session: 10:00-13:00 (Sunday)
4th Session: 5:00-8:00 (Monday)

The new version of DRAGON BALL FighterZ including the 11 characters is playable at BANDAI NAMCO Entertainment's booth. The ESL Arena will also host the first competitive tournament on Friday 25, August on PlayStation 4 and Xbox One from 15:00 to 20:00 CEST and more details can be found on the official ESL page. DRAGON BALL FighterZ showcases its spectacular fights at gamescom in HALL 6 – A41, see you there!

DRAGON BALL FighterZ is slated for a February 2018 launch on the Xbox One, PlayStation 4, and PCs via STEAM. Registration for the closed beta will open on August 22nd. For more information regarding DRAGON BALL FighterZ and additional titles from BANDAI NAMCO Entertainment Europe please visit: https://www.bandainamcoent.com, or follow us on Facebook at https://www.facebook.com/BandaiNamcoEU , or https://www.facebook.com/DBZ.videogames/. Join the conversation on Twitter at: https://www.twitter.com/BandaiNamcoEU .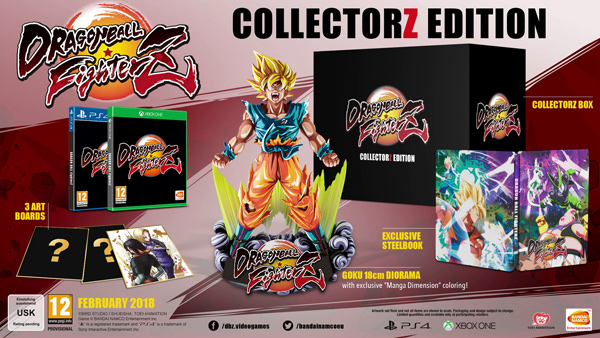 The "CollectorZ Edition" has also been announced for a North American release at $139.99 and is available for pre-order on Amazon.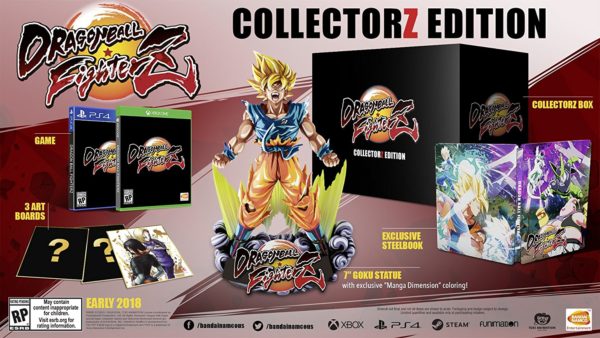 The 3-on-3, "2.5D" fighting game is set for a February 2018 release worldwide and is under development by Arc System Works for the PlayStation 4, Xbox One, and PC (via Steam). The game is advertised as running at a 1080p resolution and 60fps frame rate, with higher resolutions available on the PlayStation 4 Pro and Xbox One X consoles. Currently-announced playable characters include Son Goku, Son Gohan, Vegeta, Freeza, Cell, Boo, Trunks, Piccolo, Kuririn, #16, and #18 (with #17), as well as "Super Saiyan God Super Saiyan" (SSGSS, or "Super Saiyan Blue") versions of Goku and Vegeta that can be accessed early via pre-orders.
Arc previously worked on Dragon Ball Z: Extreme Butoden for the Nintendo 3DS, as well as the Super Sonic Warriors games (Bukū Tōgeki and Bukū Ressen) on the Nintendo Game Boy Advance and Nintendo DS. The developer is otherwise known for their Guilty Gear and BlazBlue series of fighting games.