Dragon Ball XENOVERSE 2 originally launched last year on the PlayStation 4, Xbox One, and PC (via Steam). Bandai Namco has brought the game to the Nintendo Switch, with its Japanese launch earlier this month (07 September 2017) coming slightly ahead of its international launch later this week (22 September 2017).
Following some initial physical copy supply constraints during its first partial week on sale, the game pushed another 3,782 copies in Japan during the reporting period of 11 September 2017 to 17 September 2017. This brings the Switch version up to 27,827 copies.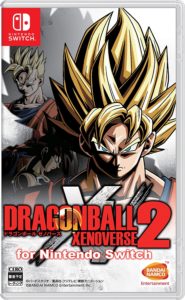 The game sold 14,367 copies on the PlayStation 4 back during its respective second week in November 2016.
The Switch version runs at a maximum of 900p in docked mode (720p in handheld mode), and supports the various Switch-specific methods of input and play with up to six-players in local play (using multiple Nintendo Switch consoles). Pre-order and first-run copies come packed with bonus material.
Developed by Dimps for Bandai Namco, Dragon Ball XENOVERSE 2 is also available worldwide for the PlayStation 4, Xbox One, and PC. In North America, the game launched for consoles 25 October 2016 with a PC release following 28 October 2016. In Europe, the game launched across all platforms 28 October 2016. In Japan, the game launched on the PlayStation 4 console 02 November 2016.