Though the downloadable content covered by the game's season pass has been completed (spanning four paid packs), Bandai Namco has announced additional content coming to Dragon Ball XENOVERSE 2 for the PlayStation 4, Xbox One, PC, and now Nintendo Switch.
The November 2017 issue of Shueisha's V-Jump magazine announced this week Majin Boo (Gohan-Absorbed) and Dabra are coming to the game as playable characters, along with Zamasu as a new mentor players can train under, in another forthcoming paid downloadable content pack set for this winter.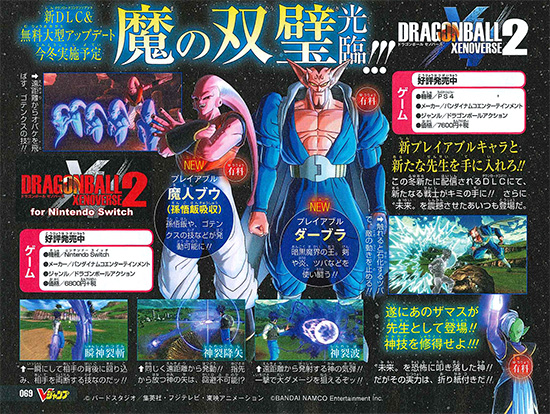 The V-Jump splash also further teases these character additions coming to the game:
この冬新たに配信されるDLCにて、新たなる戦士がキミの手に!! さらに"未来"を震撼させたあいつも登場だ。

---

In the new DLC releasing this winter, new fighters will be yours!! In addition, that person who shook the "future" will appear.
Bandai Namco states that — similar to past updates in the game — a free update will accompany the paid update adding more content for all players.
Developed by Dimps for Bandai Namco, Dragon Ball XENOVERSE 2 is available worldwide for the PlayStation 4, Xbox One, PC (via Steam), and Switch. In North America, the game launched for consoles 25 October 2016 with a PC release following 28 October 2016. In Europe, the game launched across all platforms 28 October 2016. In Japan, the game launched on the PlayStation 4 console 02 November 2016. The Nintendo Switch port was released in Japan and internationally this month.