The February 1993 issue of Shueisha's V-Jump magazine — then still actively emblazoned with the full "Virtual Jump" title — contains a wealth of Dragon Ball coverage, including: promotion for the upcoming eighth Dragon Ball Z theatrical film; a preview of the first Dragon Ball Z: Super Butōden game on the Super Famicom as well as its CG-heavy television commercial; a conversation with Akira Toriyama, Kazuhiko Torishima, and Tsuneo Matsumoto; a preview of what would become the Dragon Ball Z: V.R.V.S. arcade game; and a preview of the first 2D, sprite-based Dragon Ball Z arcade fighting game. The issue includes fantastic bonus manga material as well, in the form of the first Dub & Peter chapter from Toriyama himself, and the first Dr. Slump Returns For a Little Bit chapter written by Takao Koyama and illustrated by Katsuyoshi Nakatsuru.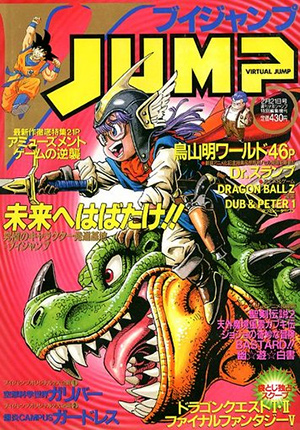 Perhaps most notable about the arcade fighting game is the inclusion of a comment from original author Akira Toriyama himself:
自分のデザインしたマシンが、こうして形になるなんてすごく光栄です。感激しました!

しかも自分のマンガのゲームがプレイできるなんて、もうワクワクしちゃいますよ。早くプレイしてみたいですね。

本当に夏休みが、とっても待ち遠しいなあ!

---

It's such an honor to have the arcade machine I designed myself take shape like this. I was really touched!

And on top of that, it's exciting to be able to play a game of my own comic. I really want to try my hand at playing it soon.

It's truly going to be such a long wait until summer vacation!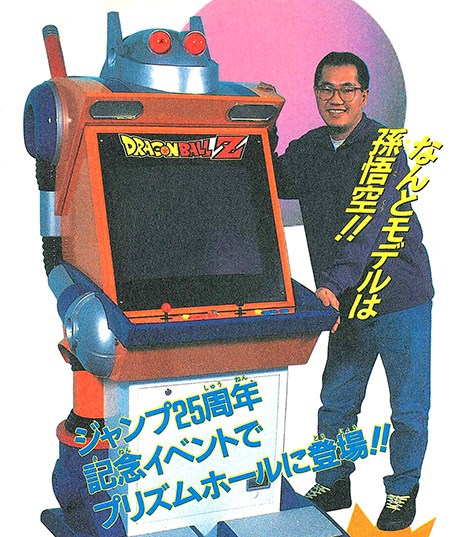 Indeed, Toriyama designed the actual arcade cabinet that would house the video game! The robot design is similar to some of Toriyama's previous design work and especially to Robo from Chrono Trigger, who was still a good two years off from release at this point in time, and even Magetta from Dragon Ball Super.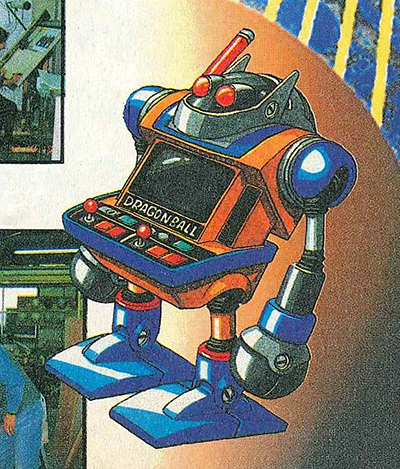 The magazine's coverage explains how a prototype for the cabinet was initially designed out of wood, though the final version was made out of metal and the feet were slightly adjusted so the machine would not topple over. The game and cabinet were set to debut later that year at Jump's 25th anniversary event during summer vacation.
The 1993 arcade game sported much larger sprite work than could be seen on home consoles of the day and included eight main playable characters (with a bonus unlock of Goku in Super Saiyan). No home port was ever adapted or released. Following the first-person Dragon Ball V.R.V.S. arcade game offshoot in 1994, a direct sequel — Dragon Ball Z 2: Super Battle — was released to arcades in 1995. Electronic Gaming Monthly covered the first arcade game in their January 1994 issue's "Arcade Action" column.
Toriyama has commented on very few games over the years; these have included a sketch and comment for 2005's Super Dragon Ball Z arcade release, and most recently a comment in support of 2018's upcoming Dragon Ball FighterZ home console fighting game.
Toriyama's Dragon Ball Z arcade game comment has been archived in our "Translations" section.