Shueisha has begun releasing digital versions of all Dragon Ball Film Anime Comics, with the first batch of ten — covering the three Dragon Ball movies, first six Dragon Ball Z movies, and the 10th anniversary film — available 04 October 2017.
Another batch of five — covering the seventh through eleventh Dragon Ball Z films — will be available 04 November 2017. The final batch — covering the twelfth and thirteen Dragon Ball Z films, the Bardock and Trunks Dragon Ball Z television specials, and the Dragon Ball GT television special — will be available 04 December 2017.
All of the digital releases thus far appear to be priced at ¥600 each.
The anime comic releases arrange screen shots from the films into traditional manga panels with corresponding dialog and narration bubbles. All of the respective films and television specials were adapted to print versions over the course of 1992-1995, with later productions like the 2008 Jump Super Anime Tour special, Battle of Gods, and Resurrection 'F' receiving slightly-more-timely print conversions.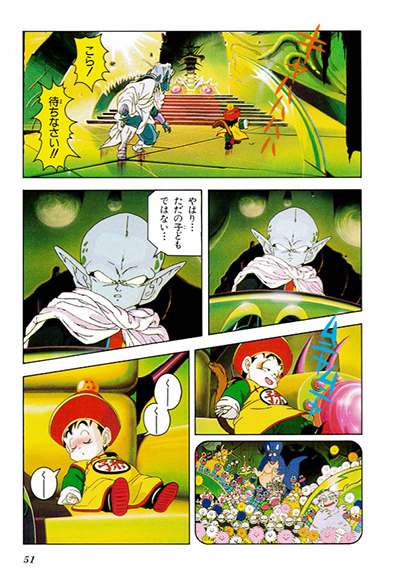 The anime comic series would often include supplemental material such as contemporary character biographies and transformation guides, and the occasional special feature such as the Bardock television special's anime comic's "The Lonely Future Warrior!! Trunks" original illustrated story.
The Dragon Ball Z television series received a similar treatment over the course of 2005-2010, independent of and complementing various manga re-releases and re-prints at the time.