A new Amazon listing for Viz's third volume of the Dragon Ball Super manga's print edition is dated for 03 July 2018 at a $9.99 MSRP. A digital edition will also be available at various retailers, including Amazon, Comixology, and direct from Viz.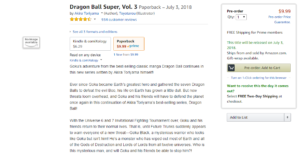 Goku's adventure from the best-selling classic manga Dragon Ball continues in this new series written by Akira Toriyama himself!

Ever since Goku became Earth's greatest hero and gathered the seven Dragon Balls to defeat the evil Boo, his life on Earth has grown a little dull. But new threats loom overhead, and Goku and his friends will have to defend the planet once again in this continuation of Akira Toriyama's best-selling series, Dragon Ball!

With the Universe 6 and 7 Invitational Fighting Tournament over, Goku and his friends return to their normal lives. That is, until Future Trunks suddenly appears to warn everyone of a new threat—Goku Black, a mysterious warrior who looks like Goku but isn't him! He's a monster who has wiped out most of Earth and all of the Gods of Destruction and Lords of Lords from all twelve universes. Who is this mysterious man, and will Goku and his friends be able to stop him?!
The third collected edition is expected to cover chapters 16-20 a la its Japanese counterpart.
The Dragon Ball Super "comicalization" began in June 2015 as a promotional tie-in for the television series. The manga runs monthly in Shueisha's V-Jump magazine, with the series' thirtieth chapter coming last month in the magazine's January 2018 issue. Illustrated by "Toyotarō" (in all likelihood, a second pen-name used by Dragon Ball AF fan manga author and illustrator "Toyble"), the Dragon Ball Super manga covered the Battle of Gods re-telling, skipped the Resurrection 'F' re-telling, and "charged ahead" to the Champa arc to act as further promotion for the television series. Viz is currently releasing free digital chapters of the series, and began their own collected print edition this spring. The second collected volume was released by Viz this week, while the fourth collected volume was released by Shueisha in Japan last month.
The Dragon Ball Super television series airs Sunday mornings at 9:00 a.m. on Fuji TV in Japan. The series now receives weekly simulcast streams on services such as Crunchyroll. FUNimation has also announced their American streaming and distribution license for the series, with the English dub beginning earlier this year on Cartoon Network, while the home video release also kicked off this summer.
Thanks to @dothemangodew for the heads-up!