Bandai Namco has provided further details — namely the available playable characters — for the company's upcoming Dragon Ball FighterZ open beta.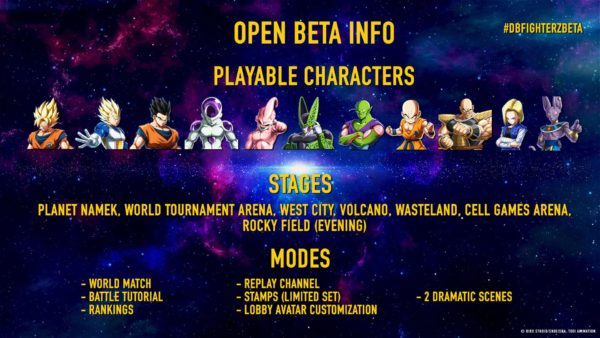 The open beta will initially be available to PlayStation 4 and Xbox One owners who digitally pre-purchase the game, with access available at 12:00 midnight 13 January 2018. The open beta will then be open to any and all console players beginning at 12:00 midnight 14 January 2018, and will run through 11:59 p.m. on 15 January 2018 (all times PST).
Playable characters will include:
Son Goku
Vegeta
Son Gohan (Adolescent)
Freeza
Majin Boo (Pure)
Cell
Piccolo
Kuririn
Nappa
#18
Beerus
Available background stages will include:
Planet Namek
Tenka'ichi Budōkai Arena
West City
Volcano
Wasteland
Cell Games Arena
Rocky Field (Evening)
Available modes will include:
World Match
Battle Tutorial
Rankings
Replay Channel
Stamps (Limited Set)
Lobby Avatar Customization
Two Dramatic Scenes
The 3-on-3, "2.5D" fighting game is under development by Arc System Works for the PlayStation 4, Xbox One, and PC (via Steam). The game is advertised as running at a 1080p resolution and 60fps frame rate, with higher resolutions available on the PlayStation 4 Pro and Xbox One X consoles. Currently-announced playable characters include Son Goku, Son Gohan (Cell arc design), Vegeta, Freeza, Cell, Boo (Good), Trunks, Piccolo, Kuririn, #16, #18 (with #17), Yamcha, Tenshinhan (with Chiaotzu), Ginyu (with teammates), Nappa (with Saibaimen), Gotenks, Son Gohan (Boo arc design), Boo (Pure), Hit, Beerus, and Goku Black (with Zamasu), as well as "Super Saiyan God Super Saiyan" (SSGSS, or "Super Saiyan Blue") versions of Goku and Vegeta that can be accessed early via pre-orders. The Akira Toriyama-designed "#21" has also been revealed as a new character central to the game's story mode. Dragon Ball FighterZ will be released 26 January 2018 in North America and Europe, and 01 February 2018 in Japan.
Arc previously worked on Dragon Ball Z: Extreme Butoden for the Nintendo 3DS, as well as the Super Sonic Warriors games (Bukū Tōgeki and Bukū Ressen) on the Nintendo Game Boy Advance and Nintendo DS. The developer is otherwise known for their Guilty Gear and BlazBlue series of fighting games.