The Dragon Ball Super television series' 9:00 a.m. Sunday morning timeslot on Fuji TV in Japan will shift to a previously-announced new GeGeGe no Kitarō anime project beginning 01 April 2018.
The Tokyo marathon will air in Dragon Ball Super's place 25 February 2018, followed shortly thereafter by the Nagoya marathon 11 March 2018. Assuming no other missed broadcasts, this pegs Dragon Ball Super as wrapping up its broadcast here with episode 131 on 25 March 2018. This falls in line with episode listings for the upcoming eleventh DVD and Blu-ray box in Japan, which initially listed episodes 121-133 before a later adjustment to episodes 121-131.
The on-going "Universe Survival arc" had previously been stated to end this coming March, though production team members were hesitant to confirm more beyond that; at the time no direct, definitive statement regarding the series' ending was made.
Dragon Ball Super inherited the 9:00 a.m. timeslot from its predecessor Dragon Ball Kai, whose revived Majin Boo arc ran from April 2014 to June 2015. Prior to this arc, the Toriko anime occupied the timeslot, running from April 2011 to March 2014. Prior to Toriko, the initial batch of Dragon Ball Kai episodes, spanning the Saiyan to Cell arcs of Dragon Ball Z, ran from April 2009 to March 2011. Prior to Dragon Ball Kai, another GeGeGe no Kitarō anime occupied the timeslot.
All the meanwhile, before and after, One Piece has occupied the 9:30 a.m. timeslot. One Piece made the shift from Wednesday evenings — originally Dragon Ball's (and Dr. Slump's) timeslot — to Sunday mornings in 2001.
Dragon Ball is set to receive a new theatrical film in December 2018. The fate of Dragon Ball Super beyond this timeslot replacement has not been divulged.
UPDATE: The website Daily Sports Online posted an article early Friday morning (Japan time) regarding the timeslot programming change, noting that Dragon Ball's future broadcast was still "under discussion":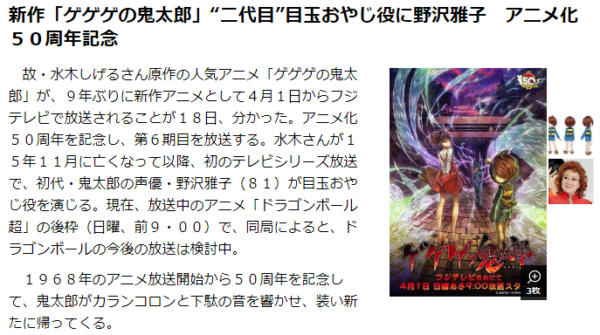 The official Dragon Ball Super Twitter account posted, later that say day, acknowledging the upcoming arc conclusion:
いつも応援ありがとうございます!
テレビシリーズ「ドラゴンボール超」宇宙サバイバル編は3月末にいよいよクライマックスを迎えますが、最後まで応援よろしくお願いいたします!
今年は12月に劇場版の公開も!
ドラゴンボールシリーズはまだまだ続きますのでご期待ください!

---

Thanks for always supporting us! The TV series Dragon Ball Super's Universe Survival arc finally reaches its climax at the end of March, so please support us to the end! There's also a movie this December too! The Dragon Ball series will continue on, so look forward to it!
Seiji Nakazawa from Rocket News 24 asked Fuji TV about Dragon Ball Super's fate, receiving an expected quasi-run-around confirming the current arc's conclusion and nebulous fate for the future of the franchise:
Is Dragon Ball Super ending?
Yes, the series presently on air will end here for now.

Really…? So it's not just changing to another timeslot?
At present it is ending; beyond that is still undecided.

That means that the "Universe Survival arc" will wrap up?
That's right. The "Universe Survival arc" will conclude at the end of March.

Will there be a sequel?
Currently it is undecided so there is nothing I can tell you, but when something is decided we will put out a press release.