The official Dragon Ball website's fifth entry in "The Nearly Complete Works of Akira Toriyama" — an on-going series highlighting rare and important pieces of the author's work over the years — is a set of character design sketches for SONCHOH, an Akira Toriyama one-shot published in the 1988 #5 issue of Weekly Shōnen Jump in Japan (released 18 December 1987).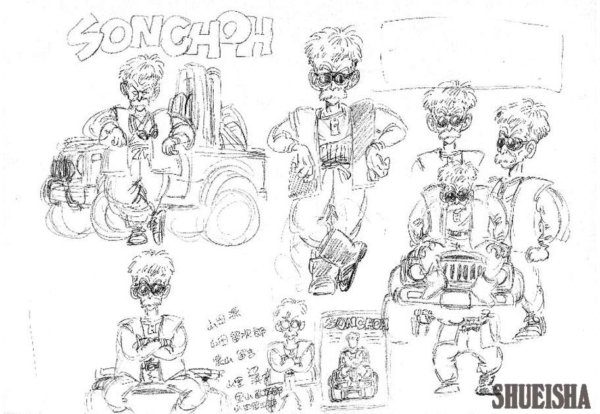 In addition to the sketches of the title character and his Suzuki Jimny, a sketch of the logo is provided with a rough layout of the title page, along with various name candidates (for what eventually became "Tetsunoshin Kataiwa") all with "rustic" surnames with an old-fashioned-feeling personal name:
Gen Yamada
Tomejirō Yamada
Tomekichi Izumiyama
Tomegorō(?) Satoyama
Tomesaburō Yamada
SONCHOH was published alongside Dragon Ball chapter 155, the title page for which features an identical design to that of SONCHOH, with both protagonists atop a Jimny. As explained by Toriyama in the convenience-store exclusive Akira Toriyama's _____piece Theatre: REMIX, Volume 3 (released 21 June 2004), he drew SONCHOH for the sake of being able to draw the Jimny, and that he considered the car itself, rather than the old man, the protagonist.