The official Dragon Ball website's sixth entry in "The Nearly Complete Works of Akira Toriyama" — an on-going series highlighting rare and important pieces of the author's work over the years — is a citation for Akira Toriyama and Ei'ichirō Oda's Dragon Ball x One Piece collaboration Cross Epoch, originally published 25 December 2006 in the 2007 #4-5 double-issue of Weekly Shōnen Jump.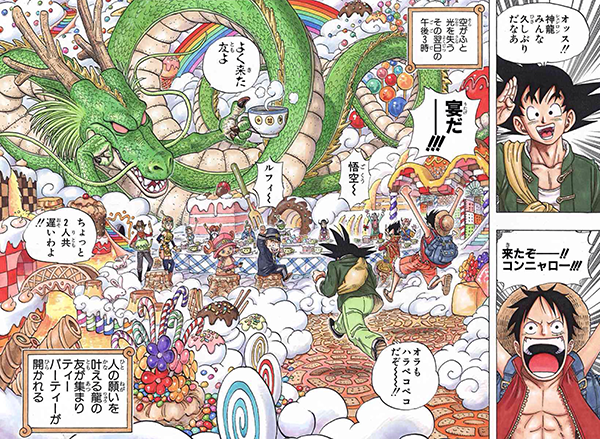 The completely stand-alone manga chapter tells the story of the Dragon Ball and One Piece characters ultimately gathering together with Shenlong for a tea party. Check out the Cross Epoch entry in our manga guide for extensive documentation including all of the chapter's puns, references (including Pandaman!), translated comments from its authors, and much more.
Cross Epoch was later translated into English and included by Viz in the company's 100th issue (April 2011) of the Shonen Jump print magazine. It has since been collected in print and digitally a select few additional times by both Shueisha and Viz.