The official Dragon Ball website's tenth entry in "The Nearly Complete Works of Akira Toriyama" — an on-going series highlighting rare and important pieces of the author's work over the years — is the key illustration and box cover art from the video game Dragon Quest II, released 26 January 1987 on the Nintendo Famicom in Japan (making today the game's 31st anniversary). The game would later make its way to America as Dragon Warrior II on the Nintendo Entertainment System.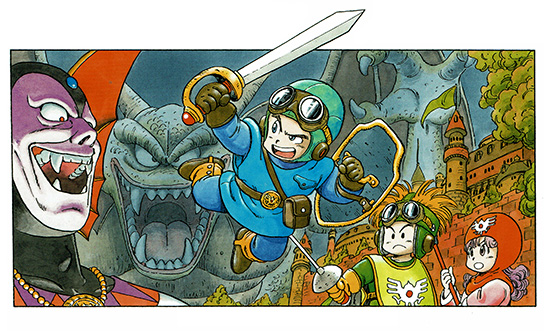 The artwork was recently included in the "Akira Toriyama Dragon Quest Illustrations" hardcover book released in 2016.
Akira Toriyama has provided a wealth of character designs and illustrations for the Dragon Quest series from its inception in 1986, all the way through the game's latest mainline entry, Dragon Quest XI (released last year in Japan, and due out internationally in 2018). While many character concepts come from game creator Yuji Horii, Toriyama is responsible for adapting them and creating additional designs with his own flair.
In his 2016 interview with Forbes, Akira Toriyama's original editor Kazuhiko Torishima explains his reasons for bringing Toriyama on board to the Dragon Quest projects:
At this time, Horii started his work at Enix, on games like Portopia Renzoku Satsujin Jiken and Okhotsku ni Kiyu: Hokkaido Rensa Satsujin Jiken. In addition, myself and my team were crazy about role-playing games on Apple, like Ultima. So I thought we should do a role-playing game with Horii as the scenario writer. However, if we had just these things it would mean we wouldn't have the justification to include it in Weekly Jump. This is why I decided to add Toriyama to the project for the character designs.
Akira Toriyama makes references to the game series in his original Dragon Ball weekly chapter notes as far back as May 1986. Along with Chapter 79, the author noted:
Dragon Quest is dangerous! It got to the point where I couldn't get any work done, so my wife finally took it away.
Along with Chapter 108 in February 1987, the author noted:
Dragon Quest II on the Famicom is too much fun! Now I can't get any work done!
Later that year in September, along with Chapter 141, he stated:
I've finally finished drawing all the monsters for Dragon Quest III. The game looks really fun!
Perhaps not coincidentally, 1987 marked special cameo appearances by Dragon Quest characters in the Dragon Ball manga. In Chapter 114, during the preliminaries at the 22nd Tenka'ichi Budōkai, three familiar faces are hanging out on the sidelines (from left to right: a Killer Tiger, Orc, and Shaman, all originally from Dragon Quest II).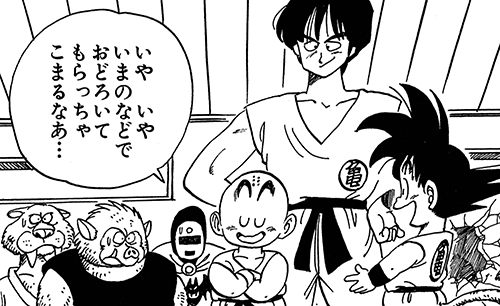 A couple pages later in the same chapter, a Shaman makes a return appearance, as well as a Cyclops two people to his left. An Archdemon also hides out behind the trio of friends.


Finally, a little bit later on during Chapter 115, both Shaman and Killer Tiger make one last appearance: