The fifth collected volume of Naho Ooishi's Dragon Ball SD — the spin-off/re-telling of the Dragon Ball series currently being serialized in Saikyō Jump — saw its release both digitally and in print in Japan today (02 February 2018).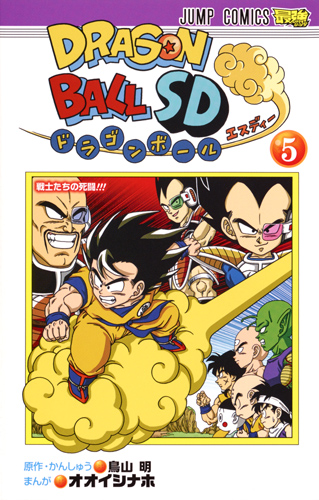 再び悟空はクリリン達と共に天下一武道会へ出場し、鶴仙人の弟子達と激突!! 強敵・天津飯と闘う悟空に勝機は!? そして一気に悟空は成長を!? 見慣れた未来のキャラも参加して、原作ファンも楽しめる第5巻!!

---

Once again, Goku, together with Kuririn & co., enters the Tenka'ichi Budōkai, and clashes with the disciples of Tsuru-sen'nin!! Does Goku stand a chance against his mighty foe Tenshinhan?! Familiar characters from the future also put in an appearance, making this fifth volume one even fans of the original can enjoy!
The volume picks up with Chapter 39 of the monthly/bimonthly reboot of the comic as Goku and friends battle at the 22nd Tenka'ichi Budōkai, and concludes with chapter 48 and the battle against Nappa and Vegeta. During its serialization in 2016, Dragon Ball SD skipped to the Saiyan arc following the the 22nd Tenka'ichi Budōkai.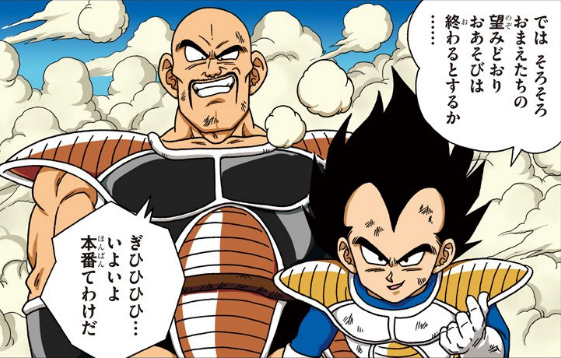 In addition to the aforementioned standard chapters, the fifth collected volume contains two bonus chapters:
A two-page comic from the 2016 Jump Special Comics for Kids!! release featuring Goku and Freeza attempting to one-up each other over the names of their respective new forms:

… as well as a four-page comic from the 2016 Jump Victory Carnival attendee booklet, where the Dragon Ball Super version of Trunks — alongside various other timelines' respective Trunks characters — all return to the moment where Goku arrives back home from Yardrat:
The 192-page tankōbon-sized volume runs ¥600 plus tax and preserves the full-color presentation from its original Saikyō Jump serialization. The print version also comes packed with a Vegeta card for Super Dragon Ball Heroes (PJS-40).
Volume 5 of the collected Dragon Ball SD is available to order from CDJapan and Amazon Japan. Chapter 52 of the reboot also sees its serialization in today's March 2018 issue of Saikyō Jump in Japan.
Dragon Ball SD began with Saikyō Jump as a quarterly publication with four total issues in 2011 re-telling major aspects of the franchise in an even more childish tone. When the magazine switched to a monthly format in 2012, Dragon Ball SD started over at the very beginning of the series with the same kind of writing and artistic style. The publication switched to a bimonthly release schedule in late-2014.