The official Dragon Ball website's nineteenth entry in "The Nearly Complete Works of Akira Toriyama" — an on-going series highlighting rare and important pieces of the author's work over the years — is a look at Toriyama's 2003 children's book, Toccio the Angel, about a naughty angel who befriends a sentient tank.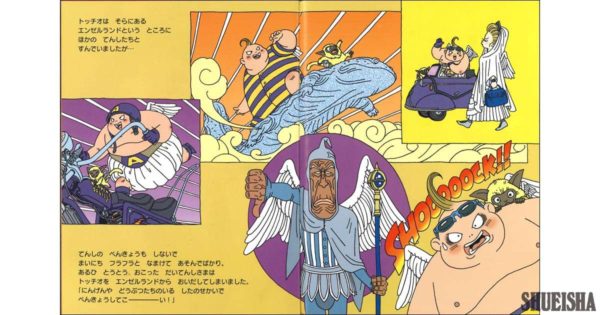 In the book's author comment section, Toriyama explains his motivation for and experience trying his hand at a children's picture-book:
Since I was originally more interested in design and illustrations, I really got to enjoy drawing this picture book. But since I'm new at it, it ended up taking a fair amount of time, and in a number of ways, it made me reflect upon the fact that I'm still in training. I'd like to study more and aim for a fun picture book that little kids will look at intensely again and again.

To tell the truth, since a few years ago, I've indulged my selfish whims and done nothing but enjoyable practice on things like picture books and design, and I'm virtually retired as a cartoonist. Nevertheless, I am very thankful to Shōnen Jump and the others involved who kindly gave me their cooperation in the production of this picture book.
Toriyama touched on Toccio in his "Akira Toriyama with Dragon Ball" interview in the 2004 kanzenban-focused guide book, Dragon Ball Forever:
Picture-book work is fun, but on the other hand, there are also parts where you build up frustration. With manga, it's enough to leave some empty spaces and arbitrary lettering, but with picture-books, you have to draw it. There are character-description-type parts, so when I did Toccio the Angel, I thought it was pretty frustrating.

I only did it in the first place because talk of, "Why don't you try drawing a picture book?" came to me. Really, I think I was a bit too conscious of picture-books in making the characters. There wasn't much there that was exactly groundbreaking… I do wonder if it would have been better to go with that sort of characters, but it is a book I want little kids to read, after all. If I get the chance, maybe… I'd like to try doing an absurd picture book.
Toccio the Angel was released in January 2003, and was initially advertised (then still transliterated as "Tocchio") in 2002 alongside what would ultimately be revealed as the kanzenban re-release of the Dragon Ball manga: