The official Dragon Ball website's twentieth entry in "The Nearly Complete Works of Akira Toriyama" — an on-going series highlighting rare and important pieces of the author's work over the years — is the main packaging artwork for 1988's Dragon Quest III on the Nintendo Famicom. As the official site only posts weekdays, and the game's 30th anniversary is 10 February 2018, this is likely the reason for the citation coming at this particular time.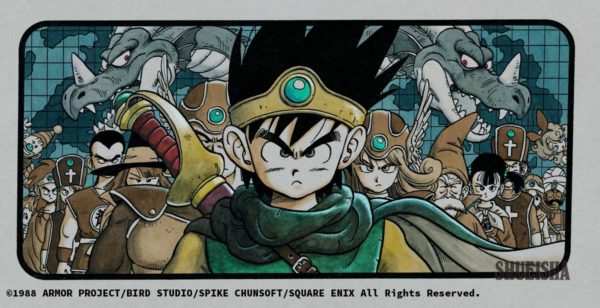 The website notes how the image was drawn on pale gray Kent paper, giving it an antique-like texture. The image has since been reused several times over for things such as the game's symphonic soundtrack and modern remakes: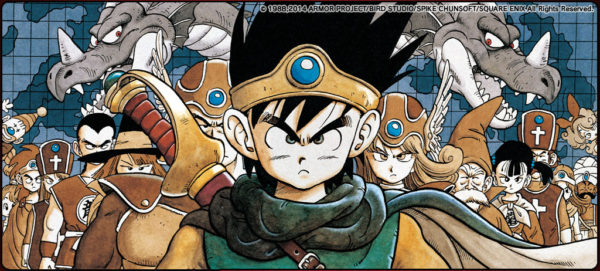 In his comment accompanying chapter 141 of the Dragon Ball manga in September 1987, Toriyama mentioned wrapping up design work on the game:
ドラゴンクエストⅢのモンスターをやっと全部かきおえた。ゲームはかなり面白そうだぞ!<明>
---
I've finally finished drawing all the monsters for Dragon Quest III. The game looks like a lot of fun! <Akira>
Dragon Quest III marked a major turning point in the franchise's popularity; the incorrect notion that a law was passed in Japan banning Dragon Quest games from being released on a weekday is attributed directly to the third entry, which saw many a Japanese student and adult alike adjusting their priorities. The first issue of Nintendo Power (July/August 1988) included a full-page "World News" piece on the game, noting its massive lines and growing popularity.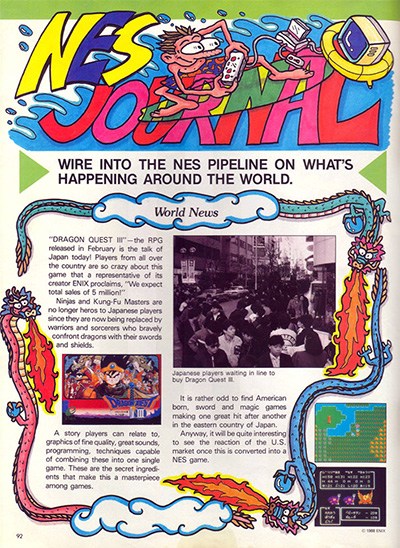 The first Dragon Quest game would not make its way to America — renamed as Dragon Warrior — until a year later in 1989. Dragon Warrior II came in 1990, followed by Dragon Warrior III in 1992.
Check out Work #010 from last month, outlining Toriyama's work on Dragon Quest II in 1987 and some of its fun cameos in the Dragon Ball manga.