The official Dragon Ball website's twenty-first entry in "The Nearly Complete Works of Akira Toriyama" — an on-going series highlighting rare and important pieces of the author's work over the years — is the title page from the debut chapter of Dr. Slump, published in the 1980 #5-6 issue of Weekly Shōnen Jump released 05 January 1980.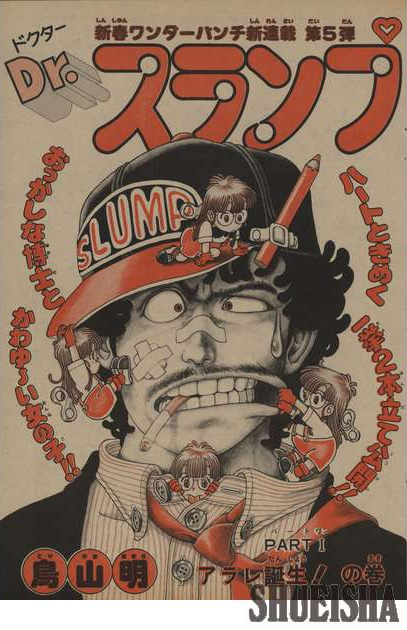 The chapter is labeled as "Part 1" because, as Toriyama later recounted in his interview with Men's Non-No (incidentally the fourth entry in this Toriyama works series), he had no idea how many pages went into a series' first chapter; chapters 1 and 2 ended up running together to get the page count correct.
Before starting the serial, I hurried and drew two chapters' worth of material, but because there were too few pages or something, they ended up being run together, and all at once I was left without any stock (material prepared ahead of time). That was the start of my hell. (laughs)
In his author comment alongside the first chapter — "Arale is Born!" — Toriyama, true to form, notes a word from his Nagoya dialect:
初の連載。全力でメチャンコがんばります。あっ"メチャンコ"って名古屋弁で"とっても"の意味よ
---
My first serial. I'll work mechanko hard and give it all I've got. Ah — mechanko means "very" in Nagoya dialect.
Toriyama would not begin signing his comments with <Akira> until chapter 6 of Dr. Slump the following month, something he would continue forward from that point on.