Shueisha has unveiled the cover art for the forthcoming fifth collected volume of Toyotarō's Dragon Ball Super manga, due out both in print and digitally in Japan 02 March 2018: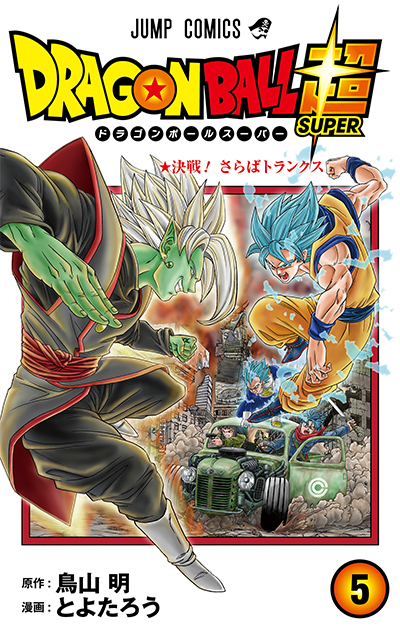 The artwork is sourced from a composition originally created for a bonus poster included with the January 2017 issue of Saikyō Jump (released 02 December 2017):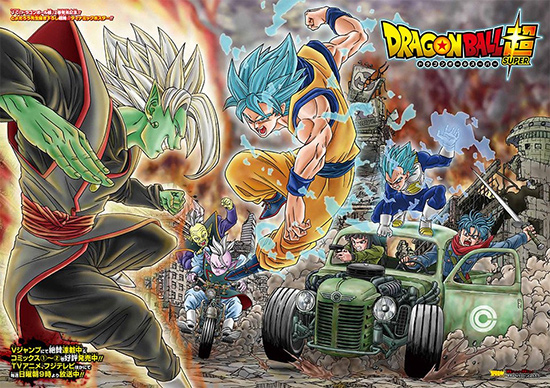 Additionally, select stores in Japan will offer alternate covers for the manga; a list of stores will be made available alongside the book's release date next month.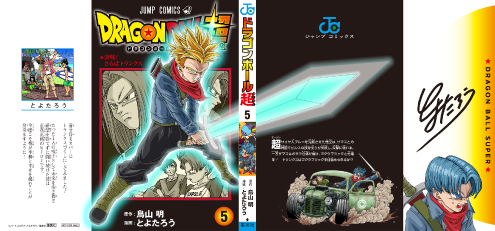 The fifth collected volume of the Dragon Ball Super manga will pick up with chapter 25 and will retail for ¥400 + tax.
The Dragon Ball Super "comicalization" began in June 2015 as a promotional tie-in for the television series. The manga runs monthly in Shueisha's V-Jump magazine, with the series' thirty-third chapter available today in the magazine's April 2018 issue. Illustrated by "Toyotarō" (in all likelihood, a second pen-name used by Dragon Ball AF fan manga author and illustrator "Toyble"), the Dragon Ball Super manga covered the Battle of Gods re-telling, skipped the Resurrection 'F' re-telling, and "charged ahead" to the Champa arc to act as further promotion for the television series. Viz is currently releasing free digital chapters of the series, and began their own collected print edition early last year. The third collected volume is due out in English from Viz in July 2018, while the fourth collected volume was released by Shueisha in Japan back in November.
The Dragon Ball Super television series airs Sunday mornings at 9:00 a.m. on Fuji TV in Japan and is set to conclude with the series' 131st episode next month. The series receives weekly simulcast streams on services such as Crunchyroll. FUNimation has also announced their American streaming and distribution license for the series, with the English dub beginning earlier this year on Cartoon Network, while the home video release also kicked off last year.