The official Dragon Ball website's thirty-fourth entry in "The Nearly Complete Works of Akira Toriyama" — an on-going series highlighting rare and important pieces of the author's work over the years — is Toriyama's illustration for the KochiKame guide book Katsushika-ku Kameari Kōen-mae Hashutsujo Daizenshuu KAMEDAS (released 09 March 1993), depicting the series' main character Kankichi "Ryō-san" Ryōtsu in Goku's dōgi.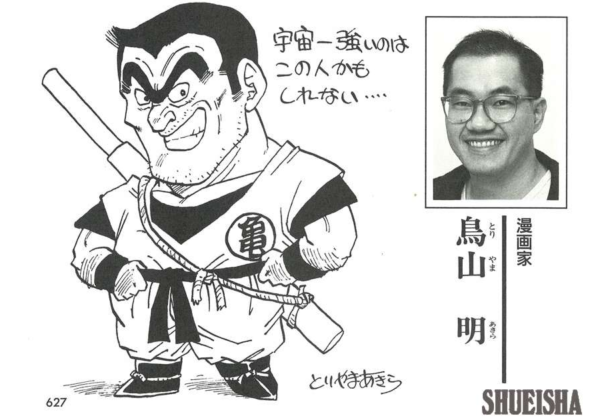 The strongest guy in the universe might be this guy…
A chapter in volume 69 in the original KochiKame manga (serialized in Weekly Shōnen Jump 1990 #17, alongside Dragon Ball chapter 268) features a scenario where Ryō-san is reassigned to Planet Namek. Over sixteen years later, Toriyama collaborated with KochiKame's Osamu Akimoto on "This is the Police Station in Front of Dragon Park on Planet Namek" for 2006's Chō-KochiKame, effectively a nine-page sequel to the original crossover hilarity. Toriyama also provided a special congratulatory comment in the same publication.