The official Dragon Ball website's thirty-fifth entry in "The Nearly Complete Works of Akira Toriyama" — an on-going series highlighting rare and important pieces of the author's work over the years — is Toriyama's advertisement announcing the return of Masakazu Katsura's Wing-Man in the 1984 No. 40 issue of Weekly Shōnen Jump following its hiatus due to the author's illness.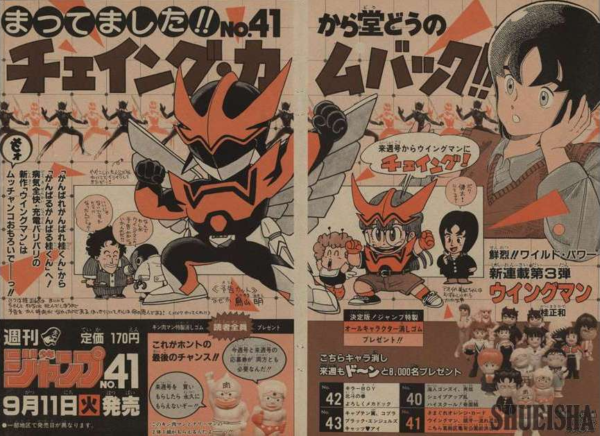 Toriyama's handwritten note at the bottom reads:
The fact is that Masakazu Katsura needs to get a good night's sleep everyday or he'll die, so he didn't have time to draw this preview. Frankly, he owes me his life! (Buy me a motorcycle!!)
Wing-Man — Katsura's debut serial — was published in the 1983 No. 5-6 through 1985 No. 39 issues of Shueisha's Weekly Shōnen Jump. The main character, Kenta Hirono, transforms into the titular Wing-Man in order to fight bad guys while wrestling with his feelings for the two main girls in his life. During the series' run, Katsura fell ill and the series was put on hiatus; meanwhile, a corner entitled "Hang in there! Hang in there! Katsura-kun" by Toriyama provided illustrations wishing for him to get well soon. At the time, Kazuhiko Torishima served as the editor for both Toriyama and Katsura.
Toriyama referenced Katsura multiple times over the years in his weekly author comments. In the 1984 No. 23 issue (alongside chapter 220 of Dr. Slump), Toriyama mentioned Katsura's hospitalization:
病室の桂くんに電話。少しセキしてたけど、元気でよかった <明>
---
I phoned Katsura-kun in his hospital room. He was coughing a bit, but I was glad he was in good spirits. <Akira>
Toriyama's friendship with manga author Masakazu Katsura (DNA², Video Girl Ai, I"s, Zetman, etc.) spans decades, and this friendship has seeped into Dragon Ball itself in subtle ways: it was Katsura himself who supposedly came up with the idea of fusion, for example. The duo's friendship and collaboration continued through two specific works of interest to Dragon Ball fans: Sachie-chan GOOD!! in 2008, and JIYA in 2010. While Dragon Ball fans may know the Galactic Patrol by way of Jaco, the space organization actually began with these two prior one-shots.
Incidentally, the 1984-85 Wing-Man television series served the as the voice acting debut of Ryō Horikawa, who would later go on to voice Vegeta in the Dragon Ball franchise.