The official Dragon Ball website's thirty-ninth entry in "The Nearly Complete Works of Akira Toriyama" — an on-going series highlighting rare and important pieces of the author's work over the years — is "The Truth About the Dragon Ball Manga", the first of two such Q&A sessions published in 2009's Super Exciting Guide books. Showcased on the official website are the fourth and fifth pages from this first session.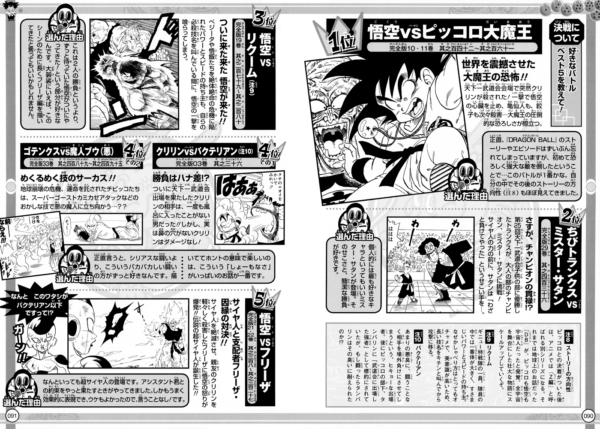 In this Q&A, Toriyama shares his five favorite battles from the Dragon Ball series, along with the editorial and creative reasons behind the Super Saiyan transformation and the "Kamehameha" attack name.
The Super Exciting Guide books are divided up into two volumes: the "Story Volume" released 04 March 2009 and the "Character Volume" released 03 April 2009. Both volumes contain an interview with Toriyama, and are based on the kanzenban release of the manga, similar to Landmark and Forever a few years prior. As the name suggests, the "Story Volume" focuses heavily on the manga's story development, including the main battles, training, and of course friendships. The "Character Volume" is very similar to both Daizenshuu 2 and 4, covering the main characters, the Dragon World and its many races, and many of the main techniques used throughout the series.