The official Dragon Ball website's forty-first entry in "The Nearly Complete Works of Akira Toriyama" — an on-going series highlighting rare and important pieces of the author's work over the years — is the "Sandy" entry from the FineMolds "1/12 Fighter Collection" of models circa 1994.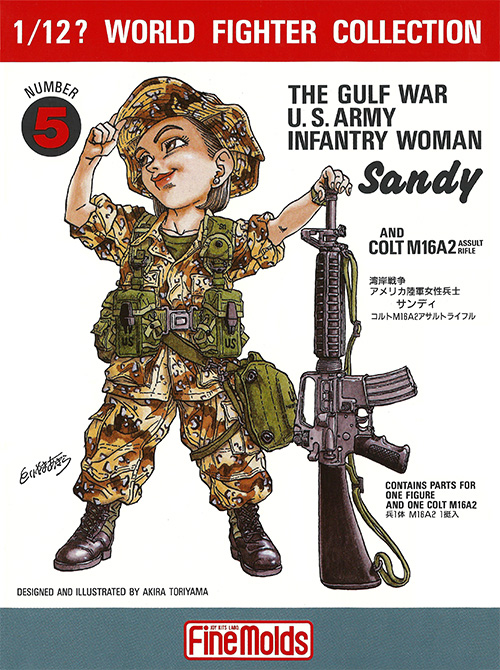 The official website describes the models:
1/12 Scale Plastic Model Construction Kit
American Army Female Soldier (Gulf War) Sandy/Colt M16A2
FineMolds LTD
Design, Supervision, Cut
Early 1994

A figure series of SD soldiers from various countries, overseen and designed by Toriyama-sensei. These were made with precise attention to detail, with guns and other equipment reproduced in 1/12th scale as accurately as possible. Besides doing the package illustrations, Toriyama-sensei also drew manga for the instruction manuals, making these must-own items for fans.
The accompanying instructions give a run-down on how to assemble and paint the figure, plus some background information on this type of soldier and her weapon:


It is said that currently one in every four US Army soldiers are female. After undergoing the same basic training as males, they are primarily assigned administrative and supply jobs.
The line of models were featured alongside an extensive interview with Akira Toriyama in the Vol. 117 issue of Model Graphix from 1994 (and while we do not currently have a complete translation of this interview, rest assured that it is on our pile for the future!):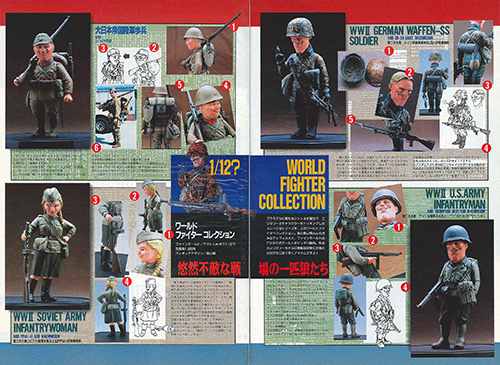 "FineMolds" is actually written out on the side of Mr. Satan's tank in the title page for chapter 501 of the Dragon Ball manga (which debuted in January 1995):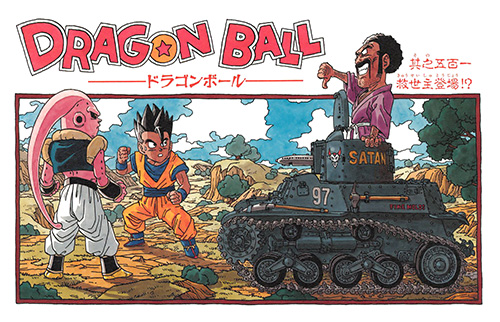 In their 2011 joint Katsura Taizen interview, Masakazu Katsura and Akira Toriyama briefly touched on these designs:
From your perspective, Katsura-sensei, what is something you find incredible about Toriyama-sensei?

Katsura: That sense of clarity, and design. Toriyama-san's pictures have nothing unpleasant about them. I think that's great about them, and I find it amazing. He's incredibly good at drawing things in a caricatured style.

Toriyama: But on the flipside, I can't draw them properly.

Katsura: Oh, you know that you can.

Toriyama: No I can't!

Katsura: What, why not? Take those plastic model soldier packages for instance: you made their faces big, but if you drew them in a normal, smaller size then they'd be fine.

Toriyama: But it wouldn't be like me to draw them that way. I don't really like drawing proper proportions. Especially not in manga.

Katsura: So you could draw it but you choose not to. Still, you're in a world where you can say "this is the way I am". I think that's your forte. Whereas I can't commit and just draw all kinds of things.
Toriyama's fascination with and enjoyment of model-building extends back to his childhood; the author reflected on this in his 2013 Chōzenshu #4 interview:
Even as I do this job, I'm the kind of bum who hardly ever reads comics, watches animation, or plays video games, including my own work. (laughs) It's not that I'm bad with any of them, but I've gotten into a lifestyle where I'm barely able just to engage in my hobby of model-building in my precious free time… With games in particular, in the Famicom era, I enjoyed them quite a bit, but I'd get too caught up in them, and time would pass by before I knew it, you know? "This is no good!" I decided, and after that, I stopped playing almost entirely. Only, I do sometimes watch my children playing, and study it only just a little.
Special thanks to Justin for the Sandy scans!