The official Dragon Ball website's forty-fourth entry in "The Nearly Complete Works of Akira Toriyama" — an on-going series highlighting rare and important pieces of the author's work over the years — is a character design sheet for Abel, hero of the 1989 Dragon Quest: Legend of the Hero Abel anime television series (voiced by Tohru Furuya, who was also voicing Yamcha in the Dragon Ball franchise at this time).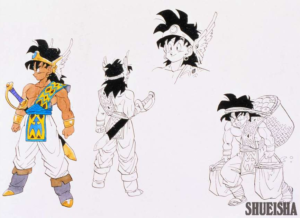 The Dragon Quest anime actually made its way to America in 1990 by way of Saban, lasting for 13 episodes under the Dragon Warrior moniker also adopted by the game series at the time.
While the television series received no American home release, the Japanese market received a complete DVD box set in March 2008.
Dragon Quest received a second anime series in 1991, adapting the popular Dragon Quest: Dai's Great Adventure manga series published by Shueisha. Dai's Great Adventure ran for 46 episodes and received three films.