The official Dragon Ball website's forty-fifth entry in "The Nearly Complete Works of Akira Toriyama" — an on-going series highlighting rare and important pieces of the author's work over the years — is the author's drawing and introductory message from 2003's first Dragon Box release, the first half of the Dragon Ball Z television series.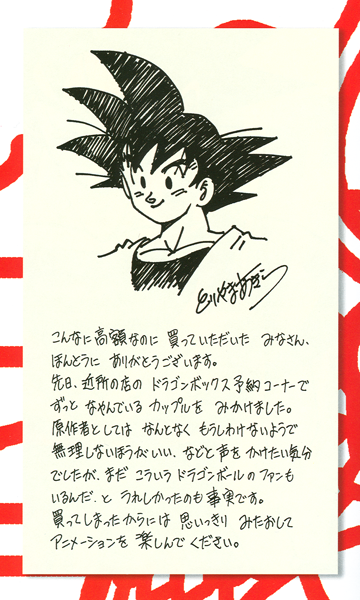 My sincerest gratitude to all those of you who bought this, despite it being so expensive. The other day at my neighborhood store, I spotted a couple who spent a long time agonizing in front of the Dragon Box reservation corner. As the creator of Dragon Ball, I wanted to apologetically tell them not to do anything crazy, though the truth is that it makes me happy to see that these kinds of Dragon Ball fans are still around. But as long as you've already gone and bought it, please enjoy this animation with all your heart.
The 26-disc box set was released 19 March 2003 (reservation were due 15 January 2003) for ¥100,000 and covered the first 147 episodes of the Dragon Ball Z television series along with bonus features, a 128-page book, and a Kaiyodo Deluxe Son Goku Action Figure (with interchangeable parts). Four more "Dragon Box" sets would follow: the second half of the Dragon Ball Z television series later that same year in 2003, the original Dragon Ball television series in 2004, the Dragon Ball GT television series in 2005, and the theatrical films in 2006.