The official Dragon Ball website's fifty-third entry in "The Nearly Complete Works of Akira Toriyama" — an on-going series highlighting rare and important pieces of the author's work over the years — is an illustration made for the 2013 theatrical film Dragon Ball Z: Battle of Gods of Vegeta attempting to appease the God of Destruction Beerus (along with his attendant, Whis).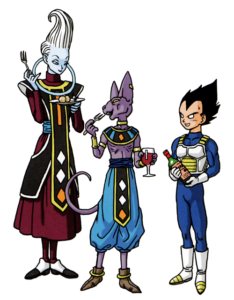 The image was previously published in 2013 in both the film's official guide book as well as the Dragon Ball Chōgashū: Super Art Collection.
The film debuted five years ago to the date of this particular website entry, which notes that only Akira Toriyama as the original author could draw Vegeta abandoning his pride and attempting to appease and entertain Beerus this way. Masako Nozawa (Son Goku, et al.) mentioned a similar thought in her Chōzenshu 4 interview that same year:
Incidentally, with this movie, Battle of Gods, I think Vegeta is going to get a lot more fans. You really get to see to the bottom of his heart, as well as an unexpected side to him, and it's really interesting. To tweak Vegeta like that is probably something only Toriyama-sensei can do. Normally, it's something you'd be too afraid to do, for fear of destroying the character.