The official Dragon Ball website's eighty-third entry in "The Nearly Complete Works of Akira Toriyama" — an on-going series highlighting rare and important pieces of the author's work over the years — is the color title page from the fifth Dr. Slump chapter ("Eeny, Meeny, Miny, Moe" or even simply "Which One Should I Choose?"; Viz adapted this as "Which Will it Be?" in their English translation), released 29 January 1980 in the 1980 No. 9 issue of Weekly Shōnen Jump: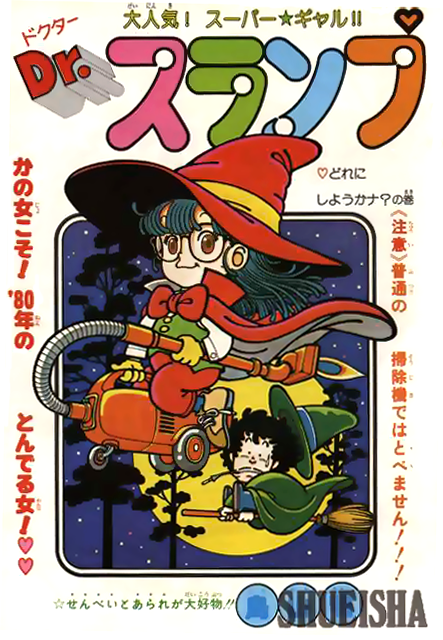 Within the chapter, Arale tries to decide which school club to join. In his comment alongside the chapter, Toriyama appears to be conducting an open search for an assistant!
名古屋近辺在住で、アシスタントできる人。建物車のカットをかいて、編集の鳥嶋氏まで連絡を!
---
Persons living in the vicinity of Nagoya, and capable of being my assistant. Please draw a cut of buildings and cars, and contact my editor Torishima!
The first time Toriyama mentions his first assistant (Hisashi "Hiswashi" Tanaka) in a Jump comment comes alongside chapter ten just a few weeks later. Toriyama has mentioned in interviews that, when starting out, he had no idea about using assistants, among other things Japanese cartoonists generally treat as a given. Even after procuring an assistant, Toriyama never had more than one at a time, and preferred to work by himself on the shorter serials following Dragon Ball.