The official Dragon Ball Heroes website has updated with biographies for eight characters set to appear in the forthcoming Super Dragon Ball Heroes promotional anime slated to begin this summer: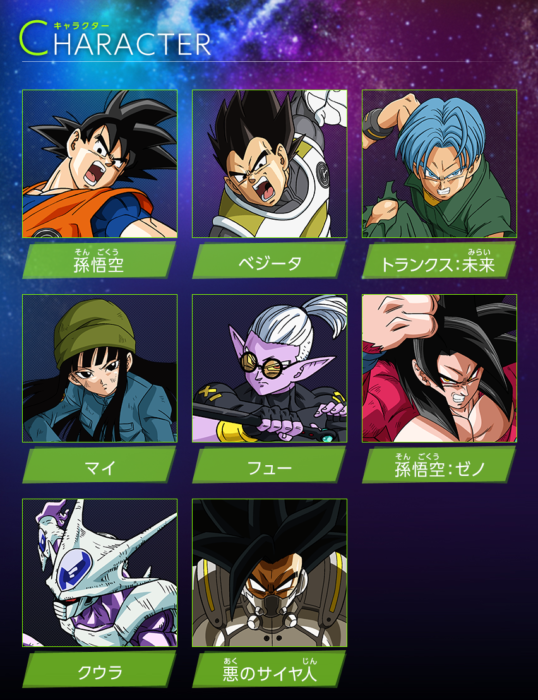 Son Goku
VA: Masako Nozawa
A kind-hearted Saiyan who trains every day to be the strongest. He heads to the Prison Planet where Trunks has supposedly been taken.

Vegeta
VA: Ryō Horikawa
In order to rescue his son Trunks (who returned from the future), he resolves to head to the Prison Planet. He's suspicious of the mysterious man "Fu".

Trunks: Future
VA: Takeshi Kusao
He came from the future to receive training from Goku and the others on Beerus' planet, but has now been imprisoned by someone on the Prison Planet.

Mai
VA: Eiko Yamada
Came from the future with Trunks. On Beerus' planet she cooks and does other things to help with the training, but when she learns Trunks has been imprisoned on the Prison Planet, she heads there despite knowing the risks.

Fu
VA: Kappei Yamaguchi
A mysterious man who brings news that Trunks has been taken to the Prison Planet. Though he claims to be Trunks' friend, his true identity is unknown. His aloof personality makes it difficult to tell what he's thinking.

Son Goku: Xeno
VA: Masako Nozawa
A Son Goku from another dimension who works for the Time Patrol. He seems to be investigating the Prison Planet, but…

Coola
VA: Ryūsei Nakao
Teams up with Trunks in order to escape from the Prison Planet.

The Evil Saiyan
VA: Rikiya Koyama
A mysterious warrior interred by Fu on the Prison Planet. With his astonishing power, he rampages through the Prison Planet and overwhelms Goku and company.
Fu — a character originally created for the defunct MMORPG Dragon Ball Online — recently made a "re"appearance in Dragon Ball XENOVERSE 2 before also surfacing in Super Dragon Ball Heroes.
The "Prison Planet arc" is the latest scenario featured in the Super Dragon Ball Heroes arcade game, which recently launched the second update in its "Universe Mission" series. Super Dragon Ball Heroes is itself an update and hardware revision to the original Dragon Ball Heroes, a card-based arcade game in which players arrange teammates on a playing field for turn-based battles.
Dragon Ball Heroes, now in its eight year, has seen a variety of multimedia spin-offs and support pieces. Yoshitaka Nagayama's Super Dragon Ball Heroes: Universe Mission manga (a follow-up to the previous Dark Demon Realm Mission series) runs in the bimonthly magazine Saikyō Jump, while Toyotaro's Dragon Ball Heroes: Victory Mission ran from 2012-2015 in V-Jump. Three portable game adaptations — Dragon Ball Heroes: Ultimate Mission, Ultimate Mission 2, and Ultimate Mission X — were released on the Nintendo 3DS.