This week on our show we take up the ongoing chat about Toyotarō possibly tracing recent cover artwork, but do so with some perspective a little more divorced from the usual side things. To wrap things up with a little fun, we also dive back into the Dragon Ball 590 Quiz Book from a few years back — enjoy the embarrassing hilarity that ensues!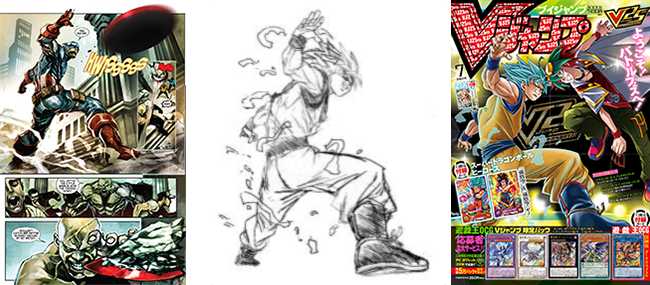 SHOW DESCRIPTION:
Episode #0445! Mike chats with Rich and Jeff about accusations of Toyotaro tracing artwork in the lead-up to his July 2018 V-Jump cover contribution. To lighten the mood a little bit, Julian and Meri join for a quick breeze through 2015's "Dragon Ball 590 Quiz Book". Play along at home and see how strong you are!
SEGMENTS:
00:12 – Introduction
05:38 – Toyotaro Part 1
35:09 – Toyotaro Part 2
1:05:51 – 590 Quiz Book
1:29:46 – Wrap-up
REFERENCED SITES:
Our podcast available via iTunes and/or Google Play Music, or you can pop the direct RSS feed into the program of your choice. You can also listen to this episode by directly downloading the MP3 or by streaming it on SoundCloud or YouTube. We invite you to discuss this episode on our forum.