The sixth collected volume of Toyotarō's Dragon Ball Super manga — originally and currently serialized on a monthly basis in Shueisha's V-Jump magazine — officially hit Japanese shelves this week on 04 June 2018 for ¥400 + tax. Spanning 192 pages, the volume covers chapters 29 through 32. The volume takes its title of "Super Warriors Assemble!" (集まれ超戦士たち!; Atsumare Chō Senshi-tachi!) directly from chapter 31 itself.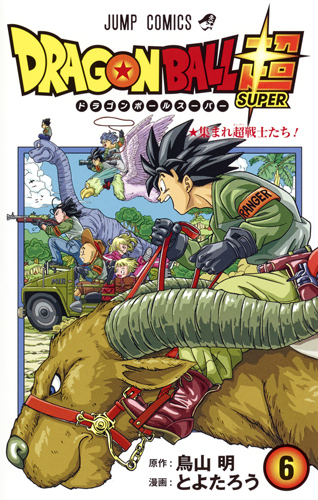 In his introductory comment, Toyotarō recalls childhood memories of occasionally being unable to race home to confirm the latest story developments:
I have a memory from my childhood of a time that I forgot to record the anime when I went out with my family, and I said, "What if Goku ends up losing while I'm not watching?! We need to hurry back." My dad replied, "If he loses, he loses; it doesn't make a difference if you're watching or not," and I had no retort. That's not the point! Though even to this day, I'm still not sure what the best reply would've been…
In addition to two pages of brief character biographies and a table of contents, the volume features a new title page: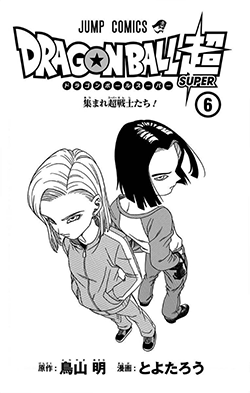 To fill out the necessary page count, Toyotarō supplies new drawings between chapters. In one drawing, Shin confirms with Whis that all of the angels are siblings; Whis notes that Kusu from Universe 10 is the oldest. No bonus chapters are included (having caught up in volume five); "Corrections Done by Toriyama-sensei Himself" make a reappearance from their debut in the third collected volume, with a brief showcase of character design and panel layout adjustments.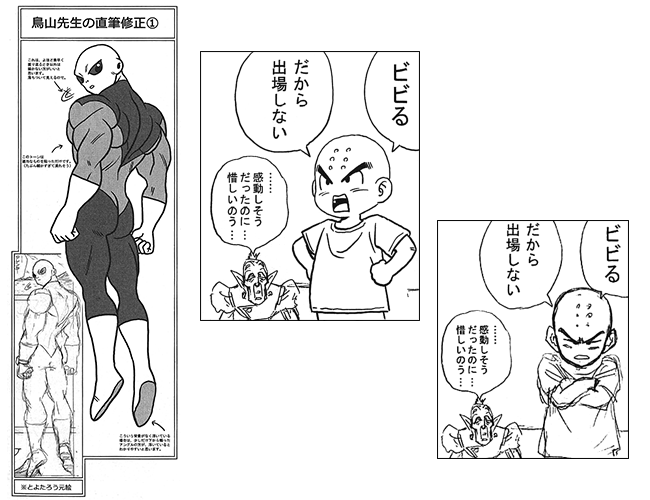 The print edition of the sixth volume is available for purchase via CDJapan and Amazon Japan. A digital release was made available the same day as the print release.
The first collected edition saw its release in April 2016 covering the series' first nine chapters, one spin-off chapter, and a special interview between Toyotarō and original author Akira Toriyama. The second collected edition saw its release in November 2016 covering the next six chapters, one more spin-off chapter, and a special interview with Toyotarō. The third collected edition saw its release last June covering the next five chapters. The fourth collected edition saw its release last November covering the next four chapters and a follow-up special interview been Toyotarō and Toriyama. The fifth collected edition saw its release this past March covering another four chapters and one additional spin-off chapter.
The Dragon Ball Super "comicalization" began in June 2015 as a promotional tie-in for the television series. The manga runs monthly in Shueisha's V-Jump magazine, with the series' thirty-sixth chapter coming last month in the magazine's July 2018 issue. Illustrated by "Toyotarō" (in all likelihood, a second pen-name used by Dragon Ball AF fan manga author and illustrator "Toyble"), the Dragon Ball Super manga covered the Battle of Gods re-telling, skipped the Resurrection 'F' re-telling, and "charged ahead" to the Champa arc to act as further promotion for the television series. Though the television series has completed its run, the manga continues onward telling its own version of the existing story. Viz is currently releasing free digital chapters of the series, and began their own collected print edition early last year. The third collected volume is due out in English from Viz in July 2018.
The Dragon Ball Super television series concluded in March 2018 with 131 total episodes. FUNimation owns the American distribution license for the series, with the English dub airing on Cartoon Network, and the home video release reaching its fourth box set this month.