Various ticket retailers are listing Dragon Ball Z theatrical screenings for later this year in America, with Dragon Ball Z movie 8 screening in September, and a double-feature of Dragon Ball Z movie 12 and the Bardock television special screening in November:
Broly – The Legendary Super Saiyan: opens 15 September 2018:
Vegeta is lured to the planet New Vegeta by a group of Saiyan survivors in hopes that he will be the king of their new planet. But when he finds that they have ulterior motives of universal domination, he and the Z Warriors must fight Broly, the legendary Super Saiyan.
Saiyan Double Feature: opens 03 November 2018:
• FUSION REBORN: The universe is thrown into dimensional chaos as the dead come back to life. Now Goku and Vegeta must track down the cause of this uproar.
• BARDOCK – THE FATHER OF GOKU: The tale of Bardock, the father of Goku, and his rebellion against his master the mighty Frieza.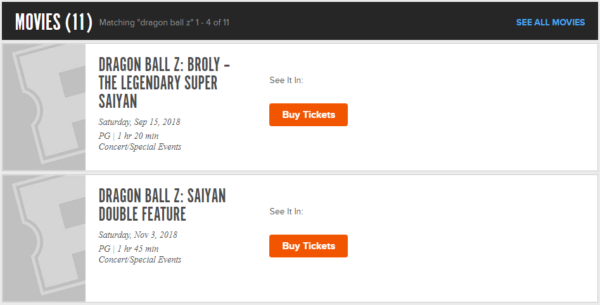 Certain schedules currently list Japanese voice talent in addition to standard director/producer/writer credits.
Prior to Dragon Ball Z: Resurrection 'F' in 2015 and Dragon Ball Z: Battle of Gods before it in 2014, FUNimation ran a limited double-feature screening of Dragon Ball Z movies 6 and 12 in March 2006. These particular screenings — reviewed way back on Episode #0019 of our podcast! — were English-dubbed-only, and held in advance and in promotion of the then-upcoming DVD release of Dragon Ball Z movie 12.
While international screenings are anticipated, this year's upcoming Dragon Ball Super theatrical film has not yet been announced for an American tour.
Thanks to TheBalishChannel on our forum and various other folks on social media for the heads-up!